Academy of Chiropractic's
Lawyers PI Program



Clinical Information #1
From the Desk of:
Mark Studin DC, FASBE(C), DAAPM, DAAMLP
"Modic Changes"


When interpreting MRI's, an area of confusion is centered around nomenclature for degeneration. The following was taken from: http://www.drvxray.com/modic__changes.htm
Modic changes, a common observation in MR imaging, are signal intensity changes in vertebral body marrow adjacent to the endplates of degenerative discs. 
Michael T. Modic, MD, professor of radiology and neurology at Case Western in Cleveland, wrote about these changes in the journal Radiology in 1988, and his name has been associated with these changes ever since.
Modic changes take 3 main forms:
Type I
            Decreased signal on T1, and increased signal on T2.
            Represents marrow edema.
            Associated with an acute process.
          Histological examination shows disruption and fissuring of the endplate and vascularized fibrous tissues within the adjacent marrow
Type II - the most common type
          Increased signal on T1, and isointense or slightly hyperintense signal on T2.
          Represents fatty degeneration of subchondral marrow.
          Associated with a chronic process.
          Histological examination shows endplate disruption with yellow marrow replacement in the adjacent vertebral body.
          Type I changes convert to Type II changes with time, while Type II changes seem to remain stable.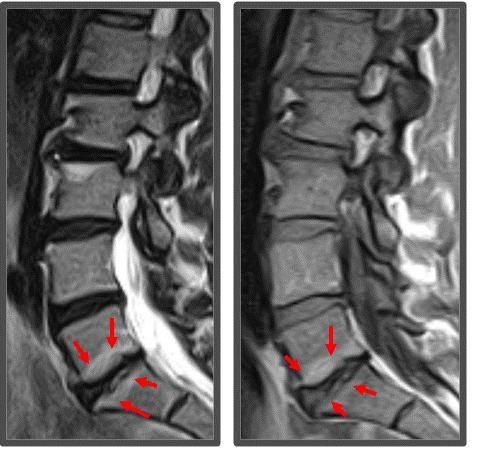 Type III
          Decreased signal on both T1 and T2.
          Correlate with extensive bony sclerosis on plain radiographs.
          Histological examination shows dense woven bone; hence, no marrow to produce MRI signal.