Academy of Chiropractic's
Lawyers PI Program



Narratives #34

From the Desk of:
Mark Studin DC, FASBE(C), DAAPM, DAAMLP 
"Is your EMR System
Screwing You?"
PROOF YOUR WORK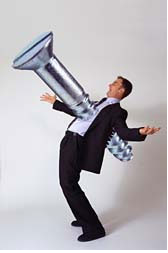 An the EMR system was designed to make your life easier and more efficient however, today's EMR systems, even the best of them have pitfalls with many serious consequences should you not be diligent. All too many doctors have their heads and the sand (or up there butt) when it comes to report writing and assume that the EMR system is handling everything. All too few doctors proofread what the EMR system created. In addition, and even worse all too many doctors are clueless and think the EMR knows more than they do.


The best reports written by doctor were usually those when they were in school and had a clinical professor looking over your shoulder. Now that I am both in academia and the practicing world I have a new level of appreciation for what was and is being taught in school. As a rule senior clinicians do a much better job of documenting the field doctors. As a result, we this field doctors should take a cue, turn back the hands of time and go back to the level of documentation we learned as a student.
The following screenshot was taken from a practicing doctors report where the EMR system generated this level of language and the Doctor chose to use this representing him and cementing his reputation based upon the following. Please remember what you're reading is the history: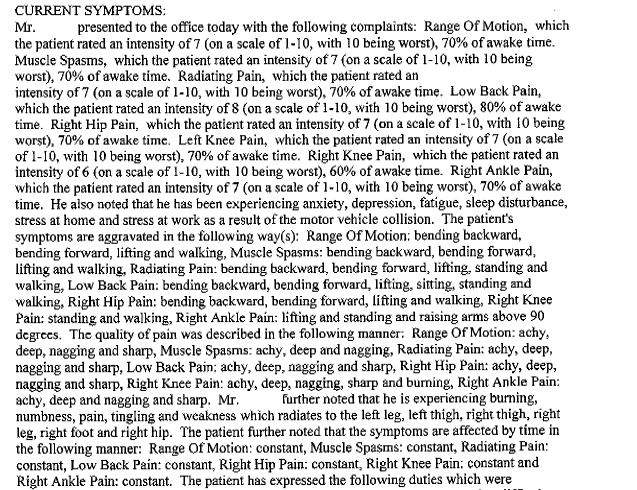 I would dare say that not only is this a perversion of the English language it is also nothing more than "computer speak" and most courts will throw this language at. In addition most insurance companies will also understand that this doctor can be profiled as one was not on top of his game.


The problem with programs like this as I have documented often in the past is written by non-clinicians. It is usually a business person who employs a programmer who has had past experience in the medical field and is now directing doctors on how to articulate findings. A prime example is the "70% of awake time". Who speaks like that? What real Doctor offers a history where the language is the same over and over for the symptom? What patients reports 60, 70 or 80% of the time in a finite number how often during the day they experience issues? In the real world it patient will say some of the time most of the time or all of the time, which then becomes a believable scenario.


The above example is about as bad as it gets in reporting a history. What is being taught in professional schools today as well as professional schools 30 years ago in every profession I have been associated with would be the following:


"Mrs. Jones has neck pain on a scale of 6 out of a possible 10 on the verbal analog scale which radiates into the left trapezius shoulder and arm to the elbow on the outer side. Her neck pain is exacerbated to an 8/10 when she flexes her neck forward or extends her neck backwards. She experiences severe muscle spasm on both sides of her neck and his relentless the entire day with episodes of exacerbations every 3 or 4 hours. As a result she has been unable to sleep secondary to pain, and cannot lift or carry anything beyond 2 or 3 pounds and that too exacerbates her pain".

The above example is how real doctors talk and should be how your EMR should read. Anything less than that will make you both look "the fool" and injure your reputation.