Academy of Chiropractic's
Lawyers PI Program




Office Systems and Admissibility #19

From the Desk of:
Mark Studin DC, FASBE(C), DAAPM, DAAMLP 

"P-IME/ 2nd Opinion
& Getting Paid"
Quite some time ago I suggested to you that every patient should have a plaintiff IME or 2nd opinion with a doctor of your choice. This should be done prior to an IME being ordered on your patient with a Doctor you have confidence in their clinical excellence, documentation and their training/credentials. I also suggested that you find a doctor in the program who has gone to the training and is relatively close and you sent back and forth for 2nd opinions. From a clinical perspective is excellent healthcare to ensure you are missing nothing and certify the need for ongoing care as well as being able to overcome negative improper IMEs.


Doctor Owens in Buffalo has been embracing this as part of his "normal business practice" for years. The following arbitration ruling (a legal mechanism in New York to get paid when denied) clearly outlines 2 things: first, the necessity for showing that your care is causing improvement and secondly, the independent opinion collaborates with your findings. The doctor (respondent) in this ruling, along with Doctor Owens were both awarded payment in the amount of $3807.66, which is a very high number in the state of New York.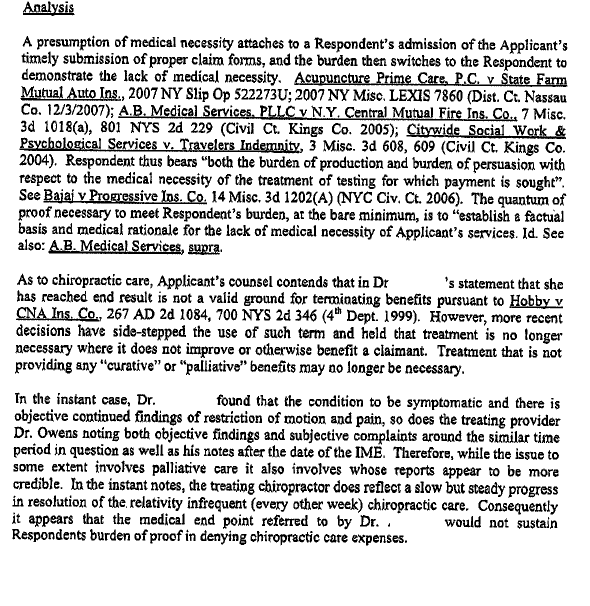 I urge each of you to follow suit and seek 2nd opinions for your patience with someone you have clinical confidence that is a chiropractor.