Academy of Chiropractic's Doctors PI Program
Office Systems, Admissibility & Get Paid #32

From the Desk of :
Mark Studin DC, FASBE (C), DAAPM, DAAMLP
"The New 2017-2018 Documentation Mandate"
As I have repeatedly shared with you that "everything bad in this country starts in New York." As much as I would like to say that is anecdotal and a result of my frustration with the system in New York, it has proven once again to be true and requires your immediate attention. In addition, I have shared with you that your success, or lack thereof, starts and ends with the courts as most doctors do not understand the role of the courts and ignore the legal system that guides our existence. 
In addition, these are the items that sets the future trends for our practices and in order to ensure payments in the immediate future, must be adhered to. This standard is the goal of every carrier because it allows them to SCREW every doctor in the nation 
You must be proactive to ensure getting paid in the future. I am certain this language will creep into every state in the nation over time. Some states sooner and others later. This is the 3
rd
 state I have heard this and the first to confirm it into law. 
See the action steps below to ensure payment and the basis for long-termed lawyer relationships. 
This was just sent by a prominent New York Lawyer to me.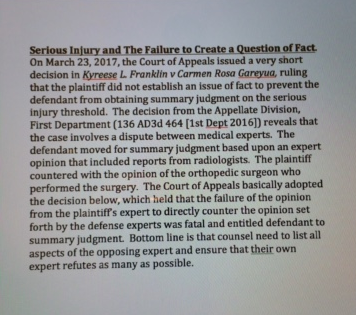 Here is the direct language from The Court of Appeals, the highest court in New York, who confirmed into law the following:
In opposition, plaintiff failed to raise a triable issue of fact as to causation. His treating orthopedist, Louis C. Rose, M.D., 
did not refute or address the findings
 of preexisting degeneration and lack of traumatic injury, set forth in the reports by Dr. Lang and Dr. Lyons contained in plaintiff's own medical records (as described above), nor did Dr. Rose explain why degeneration was not the cause of the left shoulder injury (
see
Alvarez,120 AD3d at 1044
;
Paduani v Rodriguez,101 AD3d 470, 471
[
1stDept2012]).
ACTION STEPS:
This is about as easy as it gets; you MUST write a rebuttal for EVERY IME or peer review that is negative (which is all of them). Either do them yourself and follow the suggested language in the IME Rebuttal section of consultations, or do what I would do and hire Dr. Manoni (section 18 on the homepage). 
Once the rebuttal is written, ensure that it is in the hands of the lawyer. Do not try to educate them on the law, simply get the rebuttal into their hands and you must ensure that every report that is directed at your care is rebutted and responded directly to the carrier. This is no longer voluntary… it is law(in certain states and coming to a court near you!) and without it, the carriers get a "free ride" to keep your money!!!!
This is a strong FUTURE TREND… DO NOT IGNORE IT!!!!