Academy of Chiropractic's Doctors PI Program
Build Your Infrastructure #5

From the Desk of :
Mark Studin DC, FASBE (C), DAAPM, DAAMLP


"A Sense of Urgency You Should Have"
We are no longer a secret, but your hedge for success is laziness, blinders and apathy
"Open your eyes, really open your eyes and see…Then take action. The only 2 ingredients needed after that are long days and sleepless nights!!"   
Mark Studin 2017
Most of the beginning consultations you are reading were crafted between 2007 and 2010. As you progress, so does that timeline of creation to the present day. It is for that reason, I sometimes refer to ICD-9 and that is OK as most initial concepts in these consultations are timeless. However, the later consultations reflect contemporary issues, with the "Quickie Consults" sent to you almost daily and they reflect current issues that necessitate immediate change. It takes all of them to fully shape the practice of the present and future and this can all be done without compromising who you are as a practitioner, unless you choose otherwise.
This past weekend (March 17, 2017), I was invited to speak at what was perhaps one of the largest influential gatherings our profession has ever had. It was a combined meeting of the World Federation of Chiropractic, The ACC-RAC Conference and the National Chiropractic Leadership Conference; a first for all meeting simultanously. 
To understand the players:
The WORLD FEDERATION OF CHIROPRACTIC (WFC) is a global not-for-profit organization that exists to support, empower, promote and unite chiropractors and the chiropractic profession. We have national association members representing 88 countries in 7 world regions and as an NGO of the World Health Organization, we are committed to supporting public health initiatives and advancing spinal health and well-being through our activities.
The ASSOCIATION OF CHIROPRACTIC COLLEGES (ACC) serves as the collective voice of chiropractic education. Through programs and services, the Association strengthens and promotes the chiropractic identity and mission of its member institutions so that all associated with chiropractic education can contribute to the world's health and wellness. RESEARCH AGENDA CONFERENCE (RAC) is the world's largest chiropractic gathering for poster and research presentations. 
The NATIONAL CHIROPRACTIC LEADERSHIP CONFERENCE is a meeting sponsored by the American Chiroprctic Association and is an event that is combined with lobbying federal legislators on Capitol Hill to further the chiropractic agenda legislatively. 
This meeting was attended by 1500 delegates from around the world and they invited me to present to the entire body. The venue was held in the Washington DC Hilton, as they have the largest conference room in Washington that holds upwards of 4,000 people. The research presented helps our profession evolve and there was so much. It made me proud to be a part of the process, no matter how large or small my part.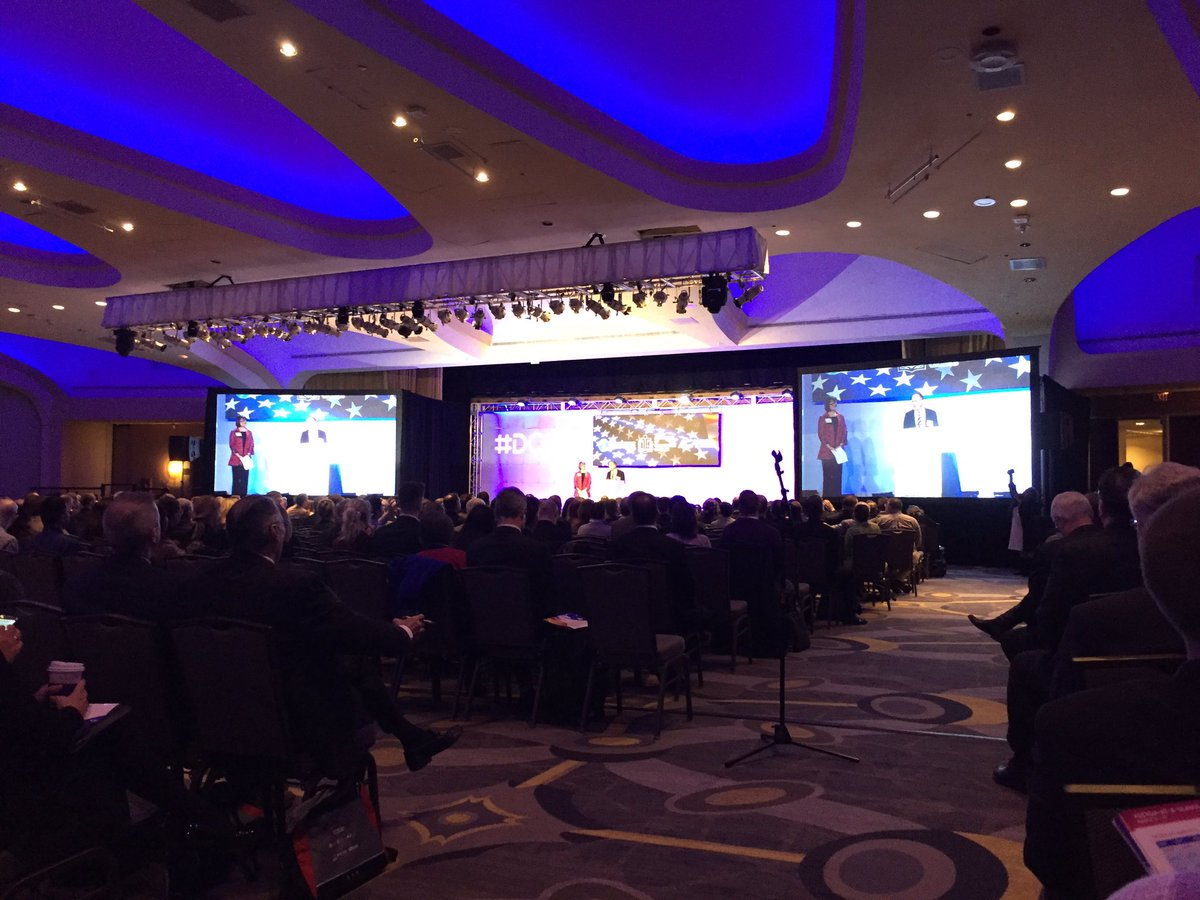 My topic in CV format was:
Achieving Practice Goals Through Clinical Excellence: A Model for Success, Utilizing MRI spine interpretation, spinal biomechanical engineering and spinal trauma pathology care as the foundation for collaborative management of mechanical spine issues. World Federation of Chiropractic, Association of Chiropractic Colleges - Research Agenda Conference (ACC-RAC), National Chiropractic Leadership Conference (NCLC), Washington DC, 2017
My name was submitted by one of the chiropractic colleges to the World Federation of Chiropractic (WFC) and after I was vetted independently, I had a 45-minute interview on the phone which turned out to be a session to get me to agree to present after I declined the invitation. I originally declined because I actively choose NOT to be a part of the political process. It is my position that after engaging in chiropractic politics for decades at various levels, I should move the "chiropractic needle" more so through academics combined with a business model that will positively influence our profession's utilization in ways that have never done, not because they can't be, but only because they have never been attempted before. 
I share this with you because you are now part of that "business model" and by your significantly increasing your practice volume and income, you are changing the chiropractic profession by altering the manner in which we function within the healthcare community and this concurrently helps the profession. As verification (I am big on numbers and verification), our program has directly influenced 628,134 referrals into chiropractic offices to our doctors nationally. You are now part of that statistic and I ask you to hurry up and grow faster so that our message can be shared on a larger platform. 
The WFC gracefully allotted me 45 minutes in front of the entire body which was comparatively a significant amount of time vs. the other speakers. This gave me time to lay out my agenda for the profession and without the time to divulge any specifics of the strategy, the world took notice. The feedback was both fulfilling and informative. Fulfilling because again it gave me validation from disparate sects of the profession who sincerely embraced our ideologies and actions. Informative because much of the feedback was that our agenda is an idea that has been "a long time coming" and it's about time we ran with it." Regardless of the agendas of some of those in attendance, whether it be drugs in chiropractic or other practice philosophies, etc., our message of moving forward through clinical excellence was universally accepted across all political and philosophical boundaries. 
My message was also one of strong support of our chiropractic colleges. Too many "rail" against our education and that is unwarranted and not factual. The purpose of our chiropractic education is to give us the basics of what we need to both pass our state and national boards and then give us the MINIMUM of what we need to get started in practice. Once we graduate, it is then OUR responsibility to take that education to the next level. In medicine, an MD first must continue his/her education to become a neurologist, orthopedist, etc. Why are we different? We are not and must carefully consider our career tracts and then focus our continuing education to serve our long-term goals in practice and wisely use our post-doctoral education time wisely understanding that time gets more precious as life and careers progress. 
As a result of my presentation, you are now on notice that the world body of chiropractic has been enlightened on what you have learned, or are about to learn, through these, the full body of consultations and the future ones that have not yet been created.  You do have 3 hedges: 1) The laziness and blinders or apathy of those in the profession that do not want to open their eyes. 2) It will take a bit of time for what they have learned to be put into action and as a profession, develop a business plan that goes beyond the politics. 3) You have me to keep you WAY ahead of the curve and what everyone else is doing. However, the profession will eventually catch up to where we are today and you must be on top of your game more so than ever before. Remember, when they catch up to today, we will be years beyond in strategy and knowledge to most, if not all of the competition. 
BUT…time is of the essence!!!
Remember, when you are sitting all alone in your office, you are not alone. You have our entire organization behind you. We are all dedicated to your success because if you win, we all win. Therefore, if you need help, I might have you call Atlanta, Denver, Austin, Buffalo, Michigan, Miami or Provo for help. We all realize that it's all hands-on deck and together we can move that "chiropractic needle" as far as we choose. All it takes is "long days and sleepless nights" combined with a plan.