Academy of Chiropractic's Lawyers PI Program
Infrastructure #143

From the Desk of :
Mark Studin DC, FASBE (C), DAAPM, DAAMLP
A Growing Trend in Getting Paid & Compliance
I have been sharing with you for many years that it is critical for you to be legally defensible in every facet of your practice. Although this might seem a daunting task there are many simple and inexpensive tools to help you accomplish that task. Determining your fees is one of those facets and cannot be overlooked. A growing trend in 2015 in both chiropractic and medicine has been carriers challenging doctors as to where their fees have been derived. Previously, I have seen this more on the medical side with a smattering of chiropractic requests. Currently, I am now seeing chiropractic catch up to medicine in the requests and in 2016 I expect this to be the norm rather than the exception and a key area of vulnerability upon audits that can be fixed immediately.
Therefore, in the past I have simply suggested strongly that your fees are set by a published standard and not simply made up by asking your "buddies." If I ask you where your fees were derived you tell me that you spoke to five friends I will share with you that in the past that was called racketeering and the carriers are well aware of a federal RICO standard, leaving you expose the legal action. If you tell me you got them from your state organization I can support that but please show me the published document and you need to ensure that your state organization has done an incredible job in accurately gathering the data.
In the past I have recommended in use Optum's "Customize Fee Analyzer" that can be found at: h
ttps://www.optumcoding.com/Product/40991/
Although this company has strong ties to the insurance carriers and many feel they are profiteering in both directions this product is a nationally known product and allows you to be legally defensible. Their publication gives you every CPT and allows you to geographically adjust your fees based upon your ZIP Code and then allows you to adjust based upon your area percentile. I believe that I am worth a 95
th
 percent fee versus a 50% fee. You get to determine what you are worth.
The following graph is a screenshot off of their website as a sample page. Utilizing a national published service is no longer optional and has become nonnegotiable for you to do.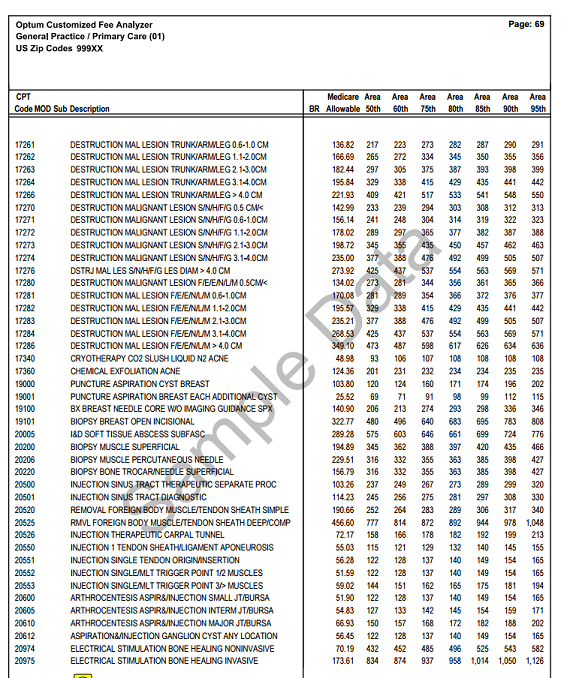 Finally, you MUST update your fee schedule EVERY year as audits occur regularly and you do not want to lave yourself exposed to having to answer questions about historical and not current fee data.