Academy of Chiropractic's Lawyers PI Program
Marketing #17

From the Desk of :
Mark Studin DC, FASBE (C), DAAPM, DAAMLP
"The Best Source for Quick and Perpetual Referrals"
Your Current and Past Patients
When looking for quick, solid referral source look no further than your own patient files. You have "Aces of Diamonds" in your own backyard. That famous story told in 1870 concluded that 
"Are you one of those people who looks for diamonds in faraway places. Is the grass really greener there? Is there an opportunity that has been in front of you all the time? Have you taken stock of your life lately? Perhaps there are diamonds sitting just outside your back door."
That story told 145 years ago holds today and in your practices. This will not guarantee personal injury referrals, but will help get PI cases and many more. The concept is no different than any other marketing paradigm in that you must stay in front of your referral sources on a regular basis with both hard and soft messages. 
Hard Messages: Increased credentials, new equipment, new staff, new coursework and/or techniques
Soft messages: Happy birthday, happy anniversary, involvement in charitable activities, involvement in the community
Both hard and soft messages served a similar purpose with your referral sources, it keeps you in their mind on a regular basis. This fall back to the marketing acronym R-R-R or repeat and review with regularity. It is why on television using the same commercial over and over for a period of time before the advertiser changes it. Therefore as a business you need to constantly position your brand in front of your potential referrals and in this case your current patients are the proverbial "lowest hanging fruit." Why? Because they already have a relationship with you and for the most part have faith, confidence and belief in you as a good doctor.
Branding is a critical concept in marketing that only a few will consider…. The smart few!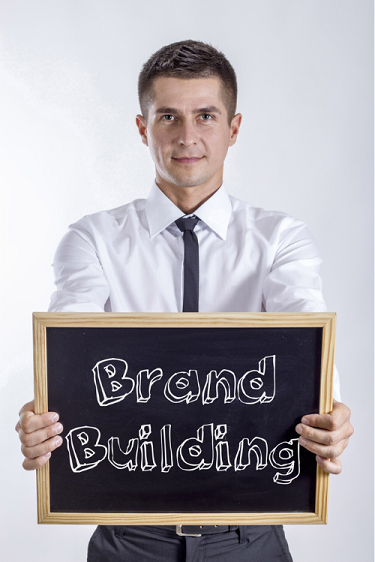 Reference: 
http://www.entrepreneur.com/article/77408
"Simply put, your brand is your promise to your customer. It tells them what they can expect from your products and services, and it differentiates your offering from your competitors'. Your brand is derived from who you are, who you want to be and who people perceive you to be.
Your brand strategy is how, what, where, when and to whom you plan on communicating and delivering on your brand messages. Where you advertise is part of your brand strategy. Your distribution channels are also part of your brand strategy. And what you communicate visually and verbally are part of your brand strategy, too.
The foundation of your brand is your logo. Your website, packaging and promotional materials--all of which should integrate your logo--communicate your brand.
1.   
Get a great logo.
 Place it everywhere.
2.   
Write down your brand messaging.
 What are the key messages you want to communicate about your brand? Every employee should be aware of your brand attributes.
3.   
Integrate your brand.
 Branding extends to every aspect of your business--how you answer your phones, what you or your admissions representatives wear on site visits, your e-mail signature, everything.
4.   
Create a "voice" for your company that reflects your brand.
 This voice should be applied to all written communication and incorporated in the visual imagery of all materials, online and off. Is your brand friendly? Be conversational. Is it ritzy? Be more formal. You get the gist.
5.   
Develop a tagline.
 Write a memorable, meaningful and concise statement that captures the essence of your brand.
6.   
Design templates and create brand standards for your marketing materials.
 Use the same color scheme, logo placement, look and feel throughout. You don't need to be fancy, just consistent.
7.   
Be true to your brand.
 Customers won't return to you--or refer you to someone else--if you don't deliver on your brand promise.
8.   
Be consistent.
 I placed this point last only because it involves all of the above and is the most important tip I can give you. If you can't do this, your attempts at establishing a brand will fail."
The above Branding strategy was meant for corporate America and you need to pull pieces out of that strategy to ensure a streamlined of referrals. However, what I am going to be recommending to you is purely focused on your current and past patients and multiple avenues of which to communicate with them. Branding your practice and you individually is a process that many companies undertake with individual practices and is a time-consuming and costly mechanism. Should you have a desire to hire Branding professionals, I have intimate relations with many and will be happy to guide you in that direction, so please don't hesitate to ask.
In focusing on current patients, let's consider the vehicles and the messages.
Vehicles to communicate:
1.  snail mail letters
2.  snail mail postcards
3.  email
4.  social media
     a.   Facebook
     b.  Twitter
     c.   Google +
For the average chiropractic office the above mechanisms will serve a wonderful basic purpose of communicating with your patients. Depending upon how much you choose to understand or be involved will be the arbiter of success in these genres.

Hard Messages:
Hard messages are generated from your practice in your professional life. It's a way of keeping your patients up to date with your career and your staff. If you are done properly your patients will consider you part of their family and want to know all about you. They will brag about you, share inflammatory stories with their friends about you and all the things a proud friend and/or family member would do.
In the past I communicated with my patients about courses that I taken, political meetings or awards that I have gotten from community politicians, new staff hires, redecorating the office, political appointments in professional organizations that I have attained, teaching appointments and anything else that is a reasonable message to communicate just so I could "stay in their faces!" 
Hard messages should be dealt with a combination of email, social media and occasionally snail mail. You should us various formats of media to increase the probability of your patients, both current and former to see you and perpetually be in their minds. 
Soft Messages:
These should always be via snail mail and pre-printed card. An e-messages imply doesn't do it. If you simply Google "Patient Birthday cards" you can purchase them for as low as 80 cents per card from a many outlets. The same applies with anniversary cards if you can get your patient's anniversary dates.