Academy of Chiropractic's Lawyers PI Program
Lawyers Meeting #15

From the Desk of :
Mark Studin DC, FASBE (C), DAAPM, DAAMLP
"Bodily Injury at Low Speed: The Proof"
This one is a game changer as certified by over 500 lawyers in 6 state over the last 4 weeks


Over the years, the problem in both court and with Colossus, should there be minimal to no damage to the vehicle, along with a verified low speed crash, it was considered improbable for an occupant in the vehicle to be injured. As recently as yesterday, a group of lawyers certified that they usually do not accept a case unless there is significant damage to the vehicle. 

This is one area where rhetoric has ruled the day and the carriers have convinced the courts that it is not possible for a person to be injured. Physics, crash dynamics and patient findings have proven otherwise. The following 2 graphics give evidence to the growing body of facts that state what all experienced practitioners know, people get hurt in low speed crashes. 

This is one area that you MUST be expert in as the legal community has virtually no place to turn for solutions to support their injured clients. In order to be expert, you MUST have the credentials of Spinal Biomechanical Engineering and Accident Reconstruction behind you. Without them, the lawyer WILL still need this documentation and will prevail in many cases, but to be the "total solution" for the lawyer, you need the credentials. 

This graphic indicates with no damage to the vehicle almost twice as many occupants get injured than with total destruction of the car. When there is only slight damage to the bumper, virtually everyone gets hurt. The mechanism of injury is explained in the Accident Reconstruction course. The citation is on the graphic.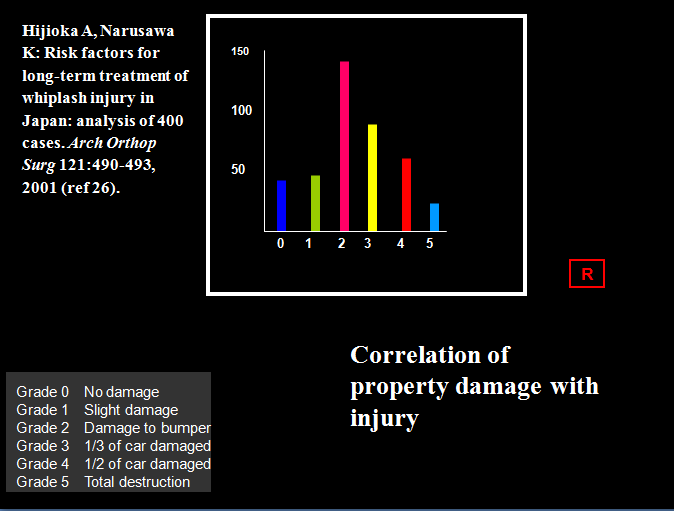 The following is a poorly known, but powerful document detailing the severity of low speed crashes.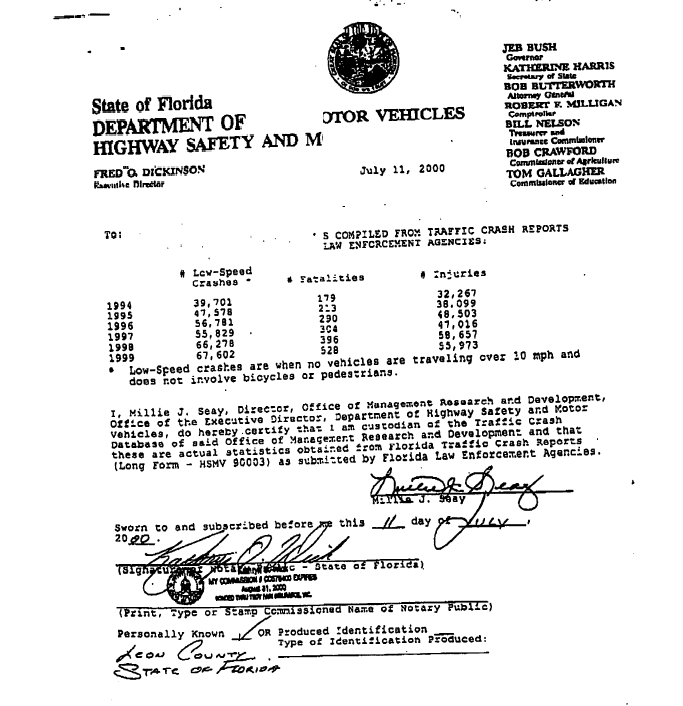 The above report from the state of Florida clearly states that 84% of the people in low speed crashes, defined as under 10mph get either injured or killed. This is certified by the Florida Department of Highway Safety and Management and is not tainted by carriers or lawyers looking to win cases or not spend money. 

This is a 1994-1999 statistic and we have requested an updated version. However, in the last 15 years, auto manufacturers have paid little attention to low speed crashes and cars today are more crash worthy at higher speeds, making the chassis stiffer and exposing the occupant to greater bodily injury at lower speeds than vehicles 15 years ago. 

These 2 graphs will solve the majority of issues lawyers have with low speed rhetoric and will help them prevail in their settlements. Should you have the requisite credentials, you will then be the solution for their court cases.