Academy of Chiropractic's Lawyers PI Program 272

From the Desk of :
Mark Studin DC, FASBE (C), DAAPM, DAAMLP
"Narratives, Research and Practice"
Clarifying the Need for Research in:
1.  Narratives
2.  Evaluations
3.  Re-Evaluations
4.  S.O.A.P. Notes
5.  Peer Reviews
6.  IME's
7.  Retrospective Audits
8.  EMR (electronic medical records)
9.  Care Plans
10. Individual Treatments

 
I have been asked over and over why I do not recommend research in narrative reports for trauma cased victims in legal proceedings (narratives.)  In fact, I have been told that the most knowledgeable "guru's" in the chiropractic personal injury arena all recommend that you include the latest research quotes and citations to substantiate your opinion. I have also been told that other organizations lay out the research to use and how to position your reports by utilizing that research. I n addition, I have been told that lawyers have a strong need for that research to be included in your reports and this is all from the most trusted and respected experts in the chiropractic field.
 
To all of that I say "I am not that smart."
 
You have to understand the difference between testimony, evidenced based care, overturning improper IME's, peer review or adverse retrospective audits. Many so called experts do not understand the process and in turn, confuse the doctors in the field trying to do the best job for their practice and patients. 
 
Many carriers, both public and private require that the provider show evidence of care standards within the profession to certify the necessity of care. 
 
 
Evidence-based health care

Reference: http://www.cochrane.org/about-us/evidence-based-health-care 

·         Evidence-based health care is the conscientious use of current best evidence in making decisions about the care of individual patients or the delivery of health services. Current best evidence is up-to-date information from relevant, valid research about the effects of different forms of health care, the potential for harm from exposure to particular agents, the accuracy of diagnostic tests, and the predictive power of prognostic factors 

·         Evidence-based clinical practice is an approach to decision-making in which the clinician uses the best evidence available, in consultation with the patient, to decide upon the option which suits that patient best

·         Evidence-based medicine is the conscientious, explicit and judicious use of current best evidence in making decisions about the care of individual patients. The practice of evidence-based medicine means integrating individual clinical expertise with the best available external clinical evidence from systematic research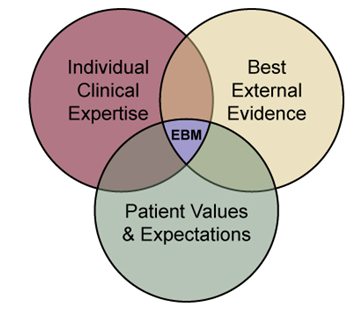 When is Research Needed

Research in evidenced based care is critical to certify that your recommendations, based upon the patient's clinical findings are usual, customary and necessary. This is becoming essential in most evaluations, both initial and follow-up and applicable in SOAP notes as well. 
 
This is the prime reason that Dr. Owens and myself have spent over 2 years researching and developing the EMR Macro program. It is often challenging to get the correct language in all of your reports, but there is nothing in the healthcare industry today that will give you "indexed peer-reviewed research" as evidence of the necessity of your care and recommendations. 
 
http://emrmacros.com/
 
This is the first developed nationally and hopefully this explanation will answer many of your questions as to why we worked so hard to develop this type of program so that you do not have to scour research to get care approved (more detailed explanation later.)
 
This is the future in care plans and certifying the need for current and future care. The sooner you accept and embrace both the protocols and steps to verify your care, the quicker you will get more care approved and get paid. This will also prevent negative IME's, peer reviews and adverse retrospective audits. You will have verified your care plan with evidenced based research PRIOR to the question being asked. Should you have to overturn or defend yourself, the evidence will have already been rendered and remove any issue of impropriety for your recommendations and care. It will also set the framework of reversing any adverse determinations. 
 
The above inclusive of both structural and subluxation based care.
Reference: http://www.linfo.org/peer_review.html

Peer Review
Peer review is the evaluation of creative work or performance by other people in the same field in order to maintain or enhance the quality of the work or performance in that field.
 
It is based on the concept that a larger and more diverse group of people will usually find more weaknesses and errors in a work or performance and will be able to make a more impartial evaluation of it than will just the person or group responsible for creating the work or performance.
 
Peer review utilizes the independence, and in some cases the anonymity, of the reviewers in order to discourage cronyism (i.e., favoritism shown to relatives and friends) and obtain an unbiased evaluation. Typically, the reviewers are not selected from among the close colleagues, relatives or friends of the creator or performer of the work, and potential reviewers are required to disclose of any conflicts of interest.
 
 
Therefore, research becomes critical in overturning improper peer reviews as the entire review is based upon accepted standards. The peer reviewer hired by the carriers will proffer both their personal opinion and the opinions of others in the research community to discredit your professional opinion in order to prevent the carriers from both approving more care and paying you.  
 
Independent Medical Examination
Reference: 
http://en.wikipedia.org/wiki/Independent_medical_examination
An 
independent medical examination
 (IME) occurs when a doctor/physical therapist/chiropractor who has not previously been involved in a person's care examines an individual. There is not doctor/therapist-patient relationship.
IMEs may be conducted to determine the cause, extent and medical treatment of a work-related or other injury where liability is at issue; whether an individual has reached maximum benefit from treatment; and whether any permanent impairment remains after treatment. An IME may be conducted at the behest of an employer or an insurance carrier to obtain an independent opinion of the clinical status of the individual. Workers' compensation insurance carriers, auto insurance carriers, and self-insured employers have a legal right to this request. Should the doctor/therapist performing the IME conclude that a patient's medical condition is not related to a compensatable event, the insurer may deny the claim and refuse payment.
Research becomes critical if the recommendations of the IME doctor do not meet the usual and customary standard of care as evidenced by the chiropractic/medical/healthcare communities in their recommendations. Research is a valid, independent avenue to get their opinion overturned in the correct forums when seeking either approval or payment for care rendered.  
You are also not limited to solely chiropractic research. Anything in the healthcare community that is germane to your argument is admissible. 
NARRATIVE REPORTING
Court is a totally different standard than fighting for necessity and care when representing an injured party as an expert.  
To resolve this issue, I used my research group to get the correct answer, therefore I posed the following question to lawyers nationally as they are the ONLY qualified group to render an accurate answer. Here is the question I posed:  
I Need Your Advice
I am consulting doctors in 42 states regarding documentation and utilizing research for reporting serious injury. In the past, I have strongly urged doctors to avoid utilizing research and give their personal opinion when directly reporting injuries of their patients. The only time I strongly urge doctors to use research is when refuting IME or peer review reports that appear improper to give industry standards in the healthcare community. 
My doctors have access to the latest literature in the medical community to help support diagnostic and treatment decisions and conclusions, but again...my concern was to ensure that the doctors render their personal opinion and not get lost in hearsay or overreaching when using a literature standard with the concerns of weakening their personal opinion on causality, bodily injury and persistent functional loss. 
PLEASE...if you have an opinion that can help clarify or alter this recommendation, my goal is to better educate doctors to do a better job reporting the truth of the injuries...and...IF...you have rulings to cite, please share them with me...Thanks...Mark 
One response I received, appeared to sum up the sentiment of lawyers that I have both spoken to the respondents that has helped me formulate my opinion through the years: 
"The first obvious caution as you know is to use literature that will withstand judicial scrutiny.  The doctor's credibility is always at stake.  I agree that the literature should be reserved for rebuttal purposes.  Meaning, rely on the opinion of the doctor which I argue is itself objective (not subjective) evidence of injury."     
Another lawyer responded:
"I am not sure of exactly what you are asking ...medical literature is fine in rebutting a peer review or a negative medical exam...not sure how you would work it in to a narrative report or why ...and I can see this as a aid in IME rebuttals more so than in a liability situation where it will come down to being elicited at trial in cross-exam of the opposing doctor."
To give a succinct answer, your opinion is evidence that can never be scrutinized for objectivity of bodily injury once you have been accepted as an expert based upon your credentials. Research is a third party opinion and many courts will accept arguments not to allow you submitting someone else's research into evidence through your testimony for various reasons. First, it is not your opinion and although you used it to formulate your diagnosis based upon this accepted research... it is still not your opinion. Secondly, because the opposing counsel cannot cross examine the expert who wrote the research, some judges may not allow testimony pertaining to the research at all. This is not only a state-by-state issue, it is also a court by court issue and judge-by-judge issue. Meaning different judges within the same jurisdiction can rule differently.
These are only a small number of reasons both defense and plaintiff lawyers can muster to prevent and discredit the expert's opinion (yours ) when attempting to base your opinion on someone else's research. 
Law is about legal, reasonable and valid arguments in a court of law. On top of that, there are precedents that other really, really smart lawyers have used to prevail. You are going against all of that when you try to use research to get your opinion across on "someone else's back."  If you just use your opinion, there can be no arguments or objections because it is YOUR OPINION. 
These are the exact words of the lawyer who succinctly wrote: "rely on the opinion of the doctor which I argue is itself objective (not subjective) evidence of injury." No one can refute your opinion as anything other than your opinion. This is a BIG DEAL in the world of law and is the difference between an experienced expert and a rookie. 
In 31 years in the medical-legal arena, I have NEVER offered anyone's opinion in court other than mine. I HAVE used a limited amount of research in narratives, but only at the specific request of a lawyer who was willing to gamble on utilizing it in court. Most don't like to gamble. 
If you want a narrative like some doctors who do that WRITE RESEARCH, I urge you to follow their footsteps and DO THE RESEARCH. That gives you license to utilize your own work and findings. Short of doing the actual research, limit the court narratives to your opinion.
NEXT CONSULTATION:Utilizing research in the clinical setting to get paid