Academy of Chiropractic Personal Injury & Primary Spine Care Program
Quickie Consult 1034
Curriculum Vitae 40 CV

From the Desk of Dr. Mark Studin
Preamble: many of these issues are small, yet each issue is just that… an issue. If you take care of the small issues, then the larger issues often take care of themselves and you can focus on the larger issues… a larger, more profitable practice and more family time.
"Attaching Certificates to your CV"
"I love me… but put you first" Mark Studin 2019 
I have been recording with Dan Rosner, Esq. Who is a national expert on testifying and securing relationships with lawyers. This affects relationships with both plaintiff and defense lawyers and you never know where your career will bring you. Could you imagine a world where every one of you works for both sides and all either wants is the truth? I guess the real Santa Claus will show up first!!!
We discussed while recording the "Chiropractor in the Courtroom" course the importance of the certificates you get after you complete each CE course that we provide. From a legal admissibility issue, the certificate is no more or less important than your CV citation and not required in the courts. HOWEVER… from a perception perspective, they are HUGE, especially if you haven't yet been confirmed in the courts as an expert through a Voir Dire hearing.
Therefore, after you complete each course, ensure that you download from the University the certificate of completion in your account.
NOTE: Over the last 3-4 months I uncovered that the certificates were not made available in the automated system. So please go back to your account and print these out, they should be there for you now.
Once you have the certificate, it should be placed at the back of your CV in date order. Ensure the lawyer sees them and even if the courtroom is not in question, it will go a long way towards the "perception" that you will be a "SLAM DUNK" in the courtroom. This is a significant piece of creating and maintaining relationships with lawyers.
This should not be counted as extra pages towards the Academy of Chiropractic Clinical Excellence Awards (CLICK HERE).
Here is a sample certificate: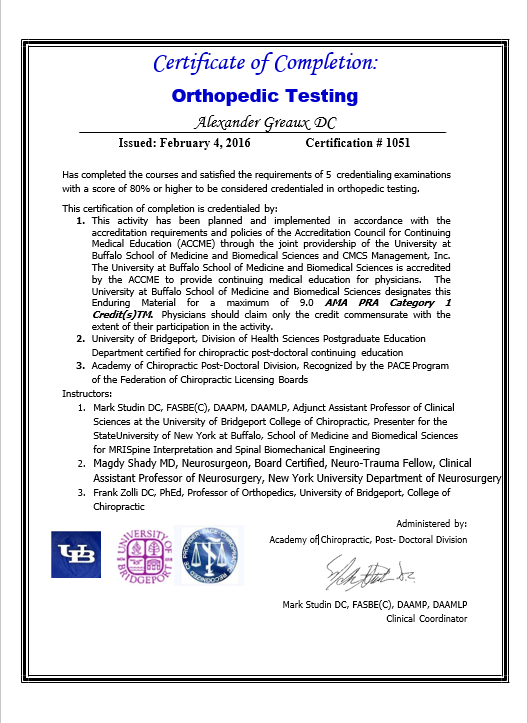 Respectfully,
Mark Studin DC, FASBE(C), DAAPM, DAAMLP
Adjunct Associate Professor of Chiropractic, University of Bridgeport, College of Chiropractic
Adjunct Post Graduate Faculty, Cleveland University-Kansas City, College of Chiropractic
Adjunct Professor, Division of Clinical Sciences, Texas Chiropractic College
Graduate Medical Educational Presenter, Accreditation Council for Continuing Medical Education Joint Partnership with the State University of New York at Buffalo, School of Medicine and Biomedical Sciences
Academy of Chiropractic
US Chiropractic Director
631-786-4253
PLEASE TAKE FURTHER NOTICE: CONFIDENTIALITY AND PROPRIETARY INFORMATION NOTICE: This email including attachments is covered by the Electronic Communications Privacy Act (18 U.S.C. 2510-2521) and contains confidential information belonging to the sender. Nothing contained in this message or in any attachment shall constitute an Electronic Signature or be given legal effect under 44 U.S.C. 3504 Sec. 1707. The information is intended only for the use of the individual or entity to which it is addressed. If the recipient of this message is not the intended recipient, you are at this moment notified that any unauthorized disclosure, dissemination, distribution or reproduction of this message or any attachments of this communications is strictly prohibited and may be unlawful. If this communication has been received in error, please notify the sender immediately by return email, and delete or destroy this and all copies of this message and all attachments.