Academy of Chiropractic Personal Injury & Primary Spine Care Program
Quickie Consult 953
Clinical Information 238 CI

From the Desk of Dr. Mark Studin
Preamble: many of these issues are small, yet each issue is just that… an issue. If you take care of the small issues, then the larger issues often take care of themselves and you can focus on the larger issues… a larger, more profitable practice and more family time.
"OOOOPS… The Radiologist Missed a Huge Fracture"
"A diagnosis missed is a life changed" Mark Studin 2018


At the very end...please read my commentary on society…  
Thank you, Dr. Jim Garabo from New Jersey, a Trauma Team Member who shared these images. 
 Dr. Garabo wrote that the radiologist diagnosed this patient with endplate spurring and he now knows better, so he got a second opinion that concurred with his. See his comments below the images.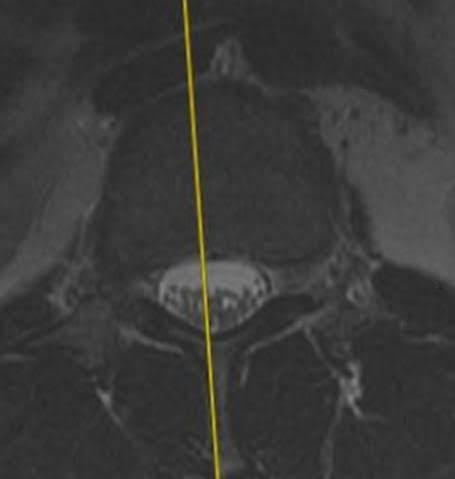 Mark-
The radiologist who read the MRI that you saw yesterday was unavailable, so I asked to speak to another radiologist at the same facility. After looking at the images in question, he agreed with me- traumatic Schmorl's nodes/end plate fracture with Modic 1. He said he would speak with the original radiologist and would likely amend the report. This changes the entire case for the patient (who happens to be an attorney in my town) because there were no anterior or posterior disc herniations and as a result the insurance company told him to take a walk. This attorney attended the April 12 CLE dinner and asked for more information following the dinner. I met with him and his boss, and he asked me to look at his file (among others).  I will confirm the outcome of this case once I have amended report in hand. Then we will light a victory cigar.
Respectfully,
James Garabo, DC, Director
Garabo Chiropractic Health Center, PC
908-497-9440
Click Here To See My Credentials
 COMMENTARY
This is not a small issue and happens every day. The radiologist misses a diagnosis and in this case, an easy one to call IF the radiologist WAS trained AND IS AN EXPERT in spine. Apparently, HE WAS NOT AND IS NOT. The patient loses their case because of no fracture diagnosis and can't work due to the pain and everyone thinks he is full of crap!!!  His doctor thinks the patient is a malingerer because a little endplate spurring cannot cause the pain they are complaining about and will not dispense any pain medication to handle the mis-diagnosed level of injury.
The patient is desperate and starts to go to urgent care after urgent care "trolling for drugs" in a non-managed way. Not getting what they need or having the injury managed appropriately, they turn to the street and begins an opiate addicted life managing at first their own pain and then attempting to manage the addiction, which happens inevitably to too many. 
The above scenario is more common than you think and what you are preventing when you render an accurate diagnosis. What we do is more than interpret MRI's and conclude accurate diagnosis… You save lives and NEVER LOSE SIGHT OF THAT!!!!!
Respectfully,
Mark Studin DC, FASBE(C), DAAPM, DAAMLP
Adjunct Associate Professor of Chiropractic, University of Bridgeport, College of Chiropractic
Adjunct Post Graduate Faculty, Cleveland University-Kansas City, College of Chiropractic
Adjunct Professor, Division of Clinical Sciences, Texas Chiropractic College
Graduate Medical Educational Presenter, Accreditation Council for Continuing Medical Education Joint Partnership with the State University of New York at Buffalo, School of Medicine and Biomedical Sciences
Academy of Chiropractic
US Chiropractic Directory
631-786-4253
PLEASE TAKE FURTHER NOTICE: CONFIDENTIALITY AND PROPRIETARY INFORMATION NOTICE: This email including attachments is covered by the Electronic Communications Privacy Act (18 U.S.C. 2510-2521) and contains confidential information belonging to the sender. Nothing contained in this message or in any attachment shall constitute an Electronic Signature or be given legal effect under 44 U.S.C. 3504 Sec. 1707. The information is intended only for the use of the individual or entity to which it is addressed. If the recipient of this message is not the intended recipient, you are at this moment notified that any unauthorized disclosure, dissemination, distribution or reproduction of this message or any attachments of this communications is strictly prohibited and may be unlawful. If this communication has been received in error, please notify the sender immediately by return email, and delete or destroy this and all copies of this message and all attachments.