Academy of Chiropractic Personal Injury & Primary Spine Care Program
Quickie Consult 944
Marketing 104G

From the Desk of Dr. Mark Studin
Preamble: many of these issues are small, yet each issue is just that… an issue. If you take care of the small issues, then the larger issues often take care of themselves and you can focus on the larger issues… a larger, more profitable practice and more family time.
NEW "UPGRADED Diplomas: Framed/Parchment Paper"
This will ADD to your reputation!!!!
AND for me, worth the investment
"I choose to look the best because I am the best" Mark Studin 2018
A few months ago, I shared with you that I was working to find a company to have an automated process for you to get your diplomas framed, with the graphics being the highest level in academia. I have done that and it only took 5 months (I am slipping). But… I am now proud to announce that we have partnered with (not formally, and I get none of your $$) Graphics Awards, Inc. out of Arkansas, that has a fully automated system and with a few clicks will ship to you diplomas and/or frames to display in your office, housing a diploma that you will be most proud to share with your patients (see sample below). The frames and diplomas come from 2 separate locations and are a "1-step" process with no assembly required, you just slide the parchment in as the frames were made specifically to house your diplomas. 


First, once you complete a course, you get the same FREE diplomas from us that are not to the level I wanted (but have served the purpose for quite some time) and you do not need to spend any additional money, or do anything different… BUT.. I would…in a large way!!!


There are links, both on the consulting portal and the academic portals for orders to be placed:


OR
To order your individual diploma or frames (samples on their site) you simply can either click on this link (
CLICK HERE
) or go to either of the portals above and order through them (it takes you to the same place). Once you place your order for the style of frame you want, you will then have to send to them verification that you have completed the course and that is done with either the CE certificate or diploma we have sent you for the individual course that can be uploaded on their site. For courses with multiple diplomas, you can get any combination of diplomas you choose, however 
I would do them all.
In addition, as I have seen displayed in many offices across the country, diplomas of doctors in reception areas (waiting rooms), I would choose one color theme for them all.  


Here is the sample look: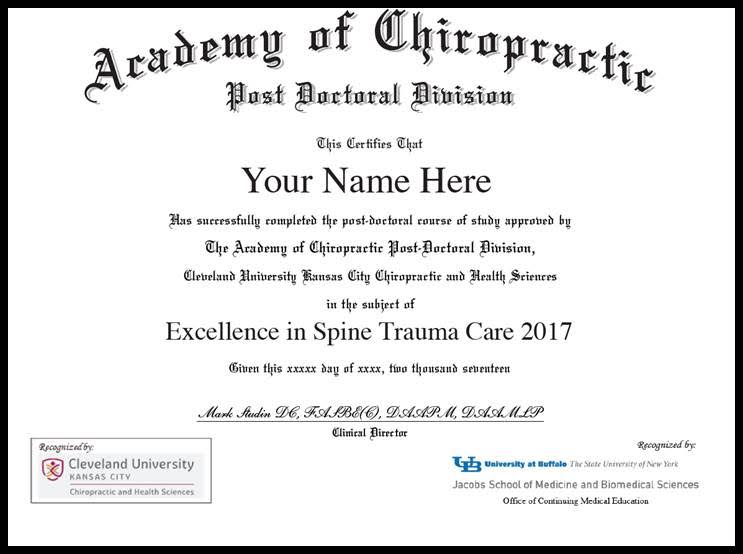 Should you have any additional questions about the process, their phone number is on the order form and you can speak to them directly. 



Respectfully,



Mark Studin DC, FASBE(C), DAAPM, DAAMLP


Adjunct Associate Professor of Chiropractic, University of Bridgeport, College of Chiropractic
Adjunct Post Graduate Faculty, Cleveland University-Kansas City, College of Chiropractic
Adjunct Professor, Division of Clinical Sciences, Texas Chiropractic College
Graduate Medical Educational Presenter, Accreditation Council for Continuing Medical Education Joint Partnership with the State University of New York at Buffalo, School of Medicine and Biomedical Sciences 


Academy of Chiropractic
US Chiropractic Directory
631-786-4253
PLEASE TAKE FURTHER NOTICE: CONFIDENTIALITY AND PROPRIETARY INFORMATION NOTICE: This email including attachments is covered by the Electronic Communications Privacy Act (18 U.S.C. 2510-2521) and contains confidential information belonging to the sender. Nothing contained in this message or in any attachment shall constitute an Electronic Signature or be given legal effect under 44 U.S.C. 3504 Sec. 1707. The information is intended only for the use of the individual or entity to which it is addressed. If the recipient of this message is not the intended recipient, you are at this moment notified that any unauthorized disclosure, dissemination, distribution or reproduction of this message or any attachments of this communications is strictly prohibited and may be unlawful. If this communication has been received in error, please notify the sender immediately by return email, and delete or destroy this and all copies of this message and all attachments.