Academy of Chiropractic Personal Injury & Primary Spine Care Program
Quickie Consult 940
Marketing 101G

From the Desk of Dr. Mark Studin
Preamble: many of these issues are small, yet each issue is just that… an issue. If you take care of the small issues, then the larger issues often take care of themselves and you can focus on the larger issues… a larger, more profitable practice and more family time.
"The Power of Credentials and More Trauma Team Dividends"
This SHOULD be your office!!!!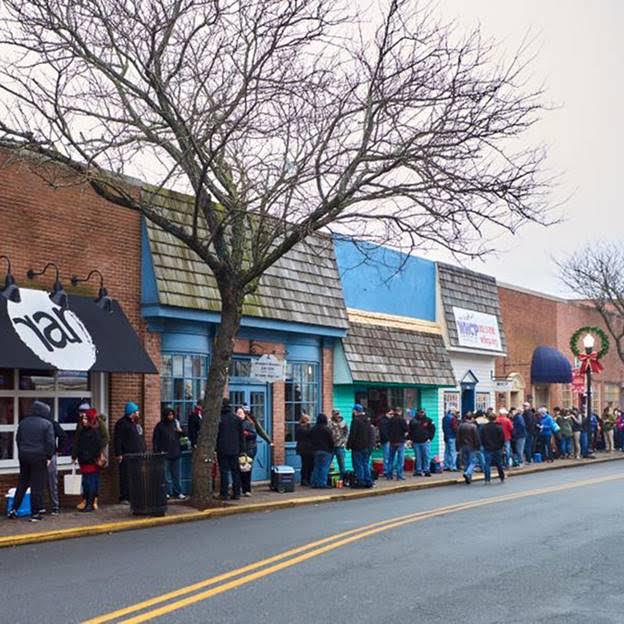 "I am proud… of ME! Mark Studin 2018
This is the picture of the line in front of the doctor who wrote the following:


"The educational outreach approach works! Thanks to the system Dr. Owens-Studin created, I was asked to speak before 35-40 primary care doctors at my local Veterans Administration hospital. After the presentation, several of the doctors asked if I was accepting referrals! They were ready to start referring their patients immediately. The education coordinator asked me to come back and present to the doctors that could not attend. Times are a changing! This type of educational outreach is the foundation for many more referral relationships!"


This is the power of the Trauma Team Membership and the doors it opens. Now for full disclosure… the doctor who wrote that is in Florida and look at the trees in the picture...Ooops… AND… This is also a picture that happens every day in New York City for some event or opening and I have waited on many lines like this in my life… However, this could be the line to your office (literally) if you create that level of demand!


Here is another testimonial (I wrote this to highlight the scenario):


"I am currently concluding the negotiations with a large surgical group that evaluates approximately 2000 patients every month. They want me to evaluate every patient FIRST to remove the non-surgical cases and keep all of them under chiropractic care as I deem clinically necessary. This is purely because of my credentials (Trauma Team) and they see me as fixing a problem they have in wasting the surgeon's time. I know I will have to get more DC's trained and working with me!"


Yesterday I received a phone call from an organization that asked me supply Trauma Team members to the Phoenix, Seattle and Tallahassee markets to support emergency rooms and surgeons as Primary Spine Care Providers. This group represents hospitals and spine surgeons nationally, and they realize that a Trauma Team Chiropractor is THEIR Solution to increased utilization by not having to screen their non-surgical cases or getting repeat visits in the ER; both of which is very bad for their business and has contributed to the opiate crisis. I have also received similar requests from large hospital groups and lawyers nationally. 


SO…
If you are on the Trauma Team, start lecturing to MD primary care providers… Immediately!!! If you aren't a Trauma Team Member… Become one YESTERDAY… Because the future is today, and we are 1-2 years ahead of the rest of the profession. 



Respectfully,


Mark Studin DC, FASBE(C), DAAPM, DAAMLP


Adjunct Associate Professor of Chiropractic, University of Bridgeport, College of Chiropractic
Adjunct Post Graduate Faculty, Cleveland University-Kansas City, College of Chiropractic
Adjunct Professor, Division of Clinical Sciences, Texas Chiropractic College
Graduate Medical Educational Presenter, Accreditation Council for Continuing Medical Education Joint Partnership with the State University of New York at Buffalo, School of Medicine and Biomedical Sciences


Academy of Chiropractic
US Chiropractic Directory
631-786-4253
PLEASE TAKE FURTHER NOTICE: CONFIDENTIALITY AND PROPRIETARY INFORMATION NOTICE: This email including attachments is covered by the Electronic Communications Privacy Act (18 U.S.C. 2510-2521) and contains confidential information belonging to the sender. Nothing contained in this message or in any attachment shall constitute an Electronic Signature or be given legal effect under 44 U.S.C. 3504 Sec. 1707. The information is intended only for the use of the individual or entity to which it is addressed. If the recipient of this message is not the intended recipient, you are at this moment notified that any unauthorized disclosure, dissemination, distribution or reproduction of this message or any attachments of this communications is strictly prohibited and may be unlawful. If this communication has been received in error, please notify the sender immediately by return email, and delete or destroy this and all copies of this message and all attachments.