Academy of Chiropractic Personal Injury & Primary Spine Care Program
Quickie Consult 932
Narratives 68N

From the Desk of Dr. Mark Studin
Preamble: many of these issues are small, yet each issue is just that… an issue. If you take care of the small issues, then the larger issues often take care of themselves and you can focus on the larger issues… a larger, more profitable practice and more family time.
"AOMSI 5th vs. 6th AMA Guides Editions"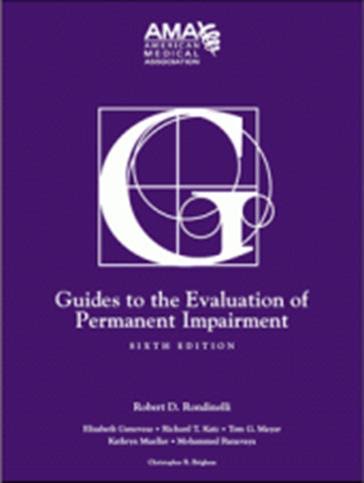 "Math makes my head hurt, but it is never wrong" Mark Studin 2018


This is from Dr. Ray Weigand and if you have any questions, call him directly 636-329-8774 or look him up at
www.spinemetrics.us

The below explains why I suggest you either outsource your images to Spine Metrics or lease the digitizing software and do it yourself (They get $399 monthly and the average reimbursement is $450. Contact Dr. Owens for leasing
dr.owens@academyofchiropractic.com
).
Q. Are the rotation and translation standards of the Guides 6th Ed. the same as the 5th Edition? NO


A.  The rotation requirements for AOMSI are the same.  


B. The translation measurements for the cervical and lumbar regions have changed.


In the 5th Ed. the translation values are fixed at 3.5 or 4.5 mm cervical and lumbar.  
In the 6th Ed the AOMSI translation value is calculated from a percentage of the mid vertebra body width. 
So, the value is different for each motion segment.
In the cervical region the AOMSI translation value is the value that represents >20% the mid vertebra width. 
In the lumbar region the AOMSI translation value for L1-L5 is; 
Anterior: greater than 8% of mid vertebra width 
Posterior: greater than 9% of mid vertebra width. 
At L5/S1 the values are;
Anterior: greater than 6% mid vertebra width
Posterior: greater than 9% mid vertebra width. 


Clinical Implications


Checking my database and looking at the statistical average of vertebra widths for both the cervical and lumbar regions suggests there is now a higher probability of finding a translation impairment. 
I believe in most instances the % value will be less than the 3.5 and 4.5 mm translation required of the 5th Ed.


Of equal requirement for meeting AOMSI in the cervical and lumbar regions is documenting MMI with residual radicular symptoms at the time of the x-ray examination for AOMSI. 


The measurement method is more difficult as one is introducing additional variables and calculations.
As of yet I have not programmed the 6th edition translation methods into my program as very few states are using the 6th.


Respectfully,




Mark Studin DC, FASBE(C), DAAPM, DAAMLP


Adjunct Associate Professor of Chiropractic, University of Bridgeport, College of Chiropractic
Adjunct Post Graduate Faculty, Cleveland University-Kansas City, College of Chiropractic
Adjunct Professor, Division of Clinical Sciences, Texas Chiropractic College
Graduate Medical Educational Presenter, Accreditation Council for Continuing Medical Education Joint Partnership with the State University of New York at Buffalo, School of Medicine and Biomedical Sciences 


Academy of Chiropractic
US Chiropractic Directory
631-786-4253

PLEASE TAKE FURTHER NOTICE: CONFIDENTIALITY AND PROPRIETARY INFORMATION NOTICE: This email including attachments is covered by the Electronic Communications Privacy Act (18 U.S.C. 2510-2521) and contains confidential information belonging to the sender. Nothing contained in this message or in any attachment shall constitute an Electronic Signature or be given legal effect under 44 U.S.C. 3504 Sec. 1707. The information is intended only for the use of the individual or entity to which it is addressed. If the recipient of this message is not the intended recipient, you are at this moment notified that any unauthorized disclosure, dissemination, distribution or reproduction of this message or any attachments of this communications is strictly prohibited and may be unlawful. If this communication has been received in error, please notify the sender immediately by return email, and delete or destroy this and all copies of this message and all attachments.