Academy of Chiropractic Personal Injury & Primary Spine Care Program
Quickie Consult 891
Compliance & Insurance – Licensure Audits 52 CA

From the Desk of Dr. Mark Studin
Preamble: many of these issues are small, yet each issue is just that… an issue. If you take care of the small issues, then the larger issues often take care of themselves and you can focus on the larger issues… a larger, more profitable practice and more family time.
"An 

NEW

 OLD Documentation Standard"
Become Truly Bulletproof to an Audit
  "I do it… I win!" Mark Studin 2017

I have always held that if you meet the most stringent standards in the country and follow those guidelines then every action in your practice will be closer to "bulletproof" because you will have met a higher standard than is required. That policy has become the norm of the Academy of Chiropractic and is the reason why we are welcomed in virtually every continuing education and academic body we either have a relationship with or have filed for accreditation for courses. The sole reason, because we have met a higher standard that is often required and has given us the reputation of the "best of the best." It opens doors and keeps them open!


The same holds true in your practice when considering documentation standards with the goal of compliance; to not win in an audit, but prevent one from ever happening. As a result, it is my goal (non-negotiable for you) for you to adhere to perhaps what is the highest standard of documentation in the country for a visit encounter. Based upon my research, the New York State Education Department, Board for Chiropractic has posted what I believe to be the narrowest guidelines for compliance. Please understand the word "narrow" means they are giving you no leeway should there be a licensure complaint.


Although there are disclaimers that they offer "alerts" and you must follow the law, do not be Pollyannaish in thinking the carriers are also not carefully paying attention and devising new policies to further limit your reimbursements and/or render a licensure complaint against you. Remember, for the carriers, they only care about making more money and doctors historically are the easiest targets because of either laziness, poor business acument or... did I say laziness? It's not stupidity because we were all taught the same standard in our professional education and mine goes back longer than almost all of you and I was taught the same back in the 1970's. 


Interestingly enough, this standard has been my mantra for over a decade when doing compliance reviews in trying to get all of you to function at this level. The New York State Education Department, Board for Chiropractic has mirrored my recommendations and articulated it well. The following is their recommendations and afterwards please read my commentary of where I slightly diverge and the reasons why.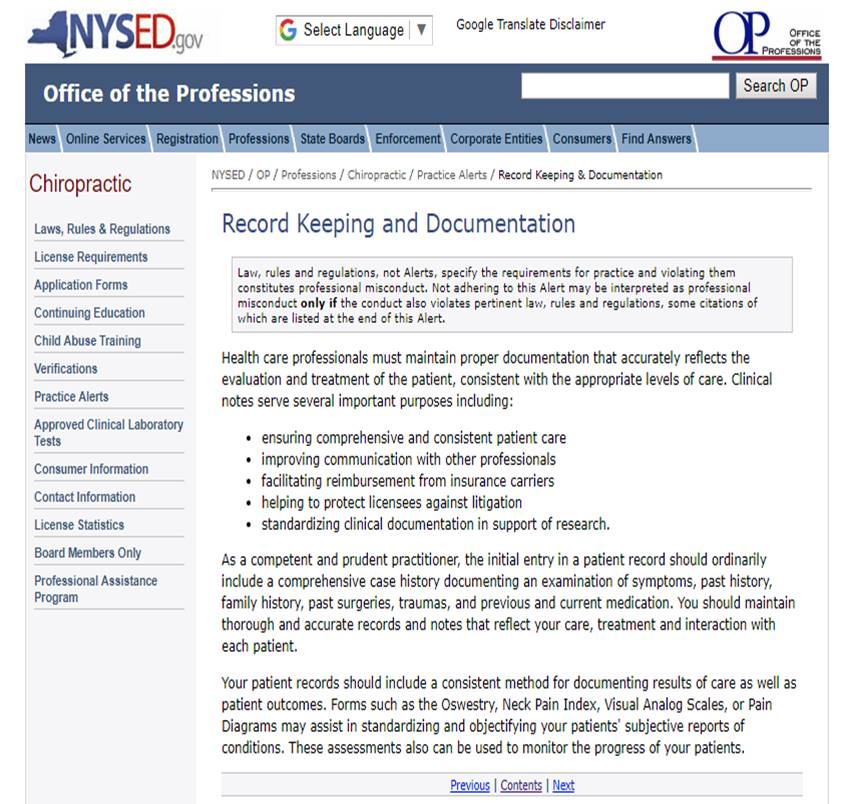 Please note that The New York State Education Department, Board for Chiropractic suggests that a comprehensive examination should be done with the litany of items listed above. Many of the items they list are historically left off in most compliance reviews and leave the doctor exposed to Federal Rico violations particularly if this is a pattern and standard of your practice.

The only issue that I have, is with the utilization of Oswestry and the Neck Pain Index as they are regional indexes and were originally designed for research. Now they are widely accepted however, do not render a complete picture of disability or outcomes. I have previously, in conjunction with Dr. Owens written an extensive article on this (CLICK HERE TO READ THE ARTICLE) and I strongly urge you to read it. However, I strongly agree with New York State in the utilization of visual analogue scales or pain diagrams. Please ensure you use a "visual" and not a "verbal" pain scale.


There is a reason doctors who trained with the Academy of chiropractic consistently make more money and have less stress; follow the rules and be one of us. This is the reason why I make certain issues "non-negotiable."


Respectfully,




Mark Studin DC, FASBE(C), DAAPM, DAAMLP


Adjunct Associate Professor of Chiropractic, University of Bridgeport, College of Chiropractic
Adjunct Professor, Division of Clinical Sciences, Texas Chiropractic College
Educational Presenter, Accreditation Council for Continuing Medical Education Joint Partnership with the State University of New York at Buffalo, School of Medicine and Biomedical Sciences

Academy of Chiropractic
US Chiropractic Directory
631-786-4253

PLEASE TAKE FURTHER NOTICE: CONFIDENTIALITY AND PROPRIETARY INFORMATION NOTICE: This email including attachments is covered by the Electronic Communications Privacy Act (18 U.S.C. 2510-2521) and contains confidential information belonging to the sender. Nothing contained in this message or in any attachment shall constitute an Electronic Signature or be given legal effect under 44 U.S.C. 3504 Sec. 1707. The information is intended only for the use of the individual or entity to which it is addressed. If the recipient of this message is not the intended recipient, you are at this moment notified that any unauthorized disclosure, dissemination, distribution or reproduction of this message or any attachments of this communications is strictly prohibited and may be unlawful. If this communication has been received in error, please notify the sender immediately by return email, and delete or destroy this and all copies of this message and all attachments.