Academy of Chiropractic Personal Injury & Primary Spine Care Program
Quickie Consult 888
CV & Credentials 37 CV

From the Desk of Dr. Mark Studin
Preamble: many of these issues are small, yet each issue is just that… an issue. If you take care of the small issues, then the larger issues often take care of themselves and you can focus on the larger issues… a larger, more profitable practice and more family time.
"Why Get Primary Spine Care Qualified?"
"That's me… WOW!  Mark Studin 2017

I have been asked repeatedly, "Why do I need to be Primary Spine Care Qualified."

FIRST… because I told you to do it!!!


Everything else comes after that, however let's explore why I told you so! As you know, I work with doctors, academic institutions, insurance carriers and courts on a national scale and as a result I get to identify trends that will affect both you and the profession in the near future. My responsibility is to keep you WELL AHEAD of the rest of the profession.


The information I have gotten from the insurance industry is that if a doctor can show evidence of advanced training in primary spine care they will consider paying that qualified chiropractor higher reimbursement level. That is already happening in one state and I am hearing "rumblings" of that happening in another state, thereby identifying a future trend. In addition, attorneys nationally are now starting to recognize that chiropractors as "primary spine care providers" give them the best option for higher levels of reimbursements based upon the Colossus algorithms. This is a direct result of both myself and you locally educating the attorneys as to why. 


Without the credential your words become hollow because the lawyer cannot bring you to court. Although that sounds like an oxymoron where you talk settlement and courtroom in the same breath, you must never lose sight of the fact that no matter the conversation with an attorney you will always be judged by their endgame… The courtroom. This is where you must understand at a visceral level Daubert, Voir Dire and Frye from thee legal perspective as it will teach you the "business of the lawyers."


In addition, should you end up in the courtroom this credential is powerful in certifying you as an expert. Lawyers know that and are desperate for better credentialed chiropractors. The #1 complaint I hear from lawyers on a national scale is they want to work with chiropractors, however they cannot find the appropriately credentialed chiropractor and therefore seek medical specialists as an alternative. The trend is starting to change and you must lead that change.


When dealing with medical providers; both primary and specialists, that qualification both gives you the background information, credentials and language on how to communicate at a peer level. With having the qualification, you get to factually say that you are primary spine care qualified to work in a collaborative relationship with the medical community from the earliest diagnosis to the conclusion of rehabilitation.


Over the next few years you are going to see dozens of organizations, institutions and entities offering primary spine care in their attempt to catch up to us. Never lose sight of the fact that the "first" is always the one that controls the game should you position yourself properly. It is my job to first get you the credential and then teach you how to use that credential in leaving the profession in "everything primary spine care."


In closing, get your primary spine care qualification right now if for no other reason because I told you so and know it will help you and your career. To get Primary Spine Care qualified, please go to 
www.TeachDoctors.com
 and click on #20 to learn what you need to do… It's fun and EXTRMELY REWARDING!!!!
Below is the credential from your CV and Diploma you get to display in your office.


Primary Spine Care Qualified, 
This qualification includes graduate chiropractic education in healthy and traumatically altered spinal morphology inclusive of osseous, connective tissue and neurological structure, function and pathology. This certifies you are qualified in assessing predictive models in spinal biomechanics and devising engineering paradigms for treatment plans to maximize spinal homeostasis in an evidenced based conclusion. In addition, this qualification acknowledges your expertise in triaging the injured and coordinating collaborative care from the trauma through conclusion of rehabilitation, 
Academy of Chiropractic Post-Doctoral Division, Cleveland University-Kansas City, College of Chiropractic, Long Island NY, 2017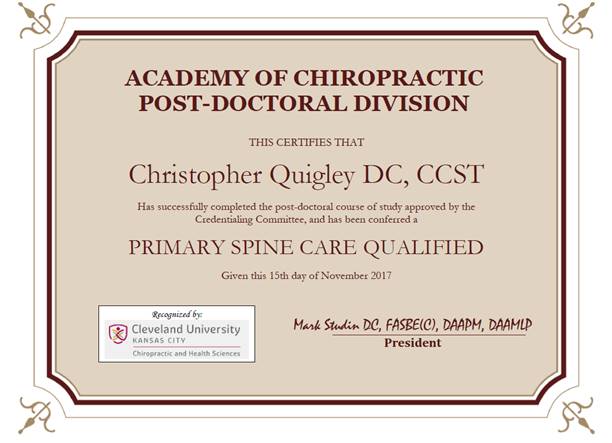 Respectfully,




Mark Studin DC, FASBE(C), DAAPM, DAAMLP


Adjunct Associate Professor of Chiropractic, University of Bridgeport, College of Chiropractic
Adjunct Professor, Division of Clinical Sciences, Texas Chiropractic College
Educational Presenter, Accreditation Council for Continuing Medical Education Joint Partnership with the State University of New York at Buffalo, School of Medicine and Biomedical Sciences

Academy of Chiropractic
US Chiropractic Directory
631-786-4253
PLEASE TAKE FURTHER NOTICE: CONFIDENTIALITY AND PROPRIETARY INFORMATION NOTICE: This email including attachments is covered by the Electronic Communications Privacy Act (18 U.S.C. 2510-2521) and contains confidential information belonging to the sender. Nothing contained in this message or in any attachment shall constitute an Electronic Signature or be given legal effect under 44 U.S.C. 3504 Sec. 1707. The information is intended only for the use of the individual or entity to which it is addressed. If the recipient of this message is not the intended recipient, you are at this moment notified that any unauthorized disclosure, dissemination, distribution or reproduction of this message or any attachments of this communications is strictly prohibited and may be unlawful. If this communication has been received in error, please notify the sender immediately by return email, and delete or destroy this and all copies of this message and all attachments.