Academy of Chiropractic Personal Injury & Primary Spine Care Program
Quickie Consult 869
Clinical Information 202 CI

From the Desk of Dr. Mark Studin
Preamble: many of these issues are small, yet each issue is just that… an issue. If you take care of the small issues, then the larger issues often take care of themselves and you can focus on the larger issues… a larger, more profitable practice and more family time.
"First identify, then act" Mark Studin 2017

From:  William J Owens Jr DC DAAMLP
The following series of MRIs was from a patient in our office.  The patient had responded VERY well to chiropractic care in the past, was referred to the surgeon for an evaluation and since she was doing well with chiropractic care, surgery was not recommended.  She treated from August 2016 to May 2017 after a motor vehicle accident.  She was released and was pain free, she returned to her working activities as a Certified Nursing Assistant.  She presented back in the clinic last week (second week of September) with severe lower back pain, she stated that her working activities slowly increased her pain and it became unbearable in the time that she was away from care.  
Here neurological examination was WNL for reflexes, sensation and strength.  Due to the flare-up and that she had positive orthopedic tests, she was sent for MRI of the Lumbar Spine.  Please look and learn from this, her first MRI is below, the follow up is below that one.  She is now triaged to the surgeon for follow up. 
FIRST - MRI LUMBAR SPINE - 08/2016
CLINICAL INDICATIONS: Low back pain radiating to the right leg. Patient is injured in a motor vehicle crash dated 8/4/2016.
IMAGING SEQUENCES: A variety of spin echo pulse sequences as well as inversion recovery techniques were utilized to evaluate the cervical spine in the sagittal and axial planes.
FINDINGS: The vertebral bodies of the lumbar spine are normal in alignment, contour and signal intensity at all pulse sequences. The facet joints are normally aligned bilaterally. Evaluation of the intervertebral discs demonstrates varying degrees of loss of the normal height, signal and architecture associated with the L3-4 through L5-S1 discs on the most heavily T2 weighted images. The conus medullaris is normal in appearance at all pulse sequences. Parasagittal imaging demonstrates encroachment upon the left L3-4 and L4-5 foramina due to bulging annular fibers. The paravertebral soft tissues are normal in appearance. 
Evaluation of the axial images are as follows:
T12-L1 through L2-3: There is no evidence of disc herniation, canal stenosis, foraminal narrowing or arthritic change.
L3-4: There is an asymmetric left lateral bulge of the annulus with mild facet arthropathy. There is no canal stenosis. There is encroachment upon the left foramen. I cannot exclude an associated annular tear. There is no direct contact with the left L3 nerve root although there is some superior displacement of the left L3 nerve root within the foramen. The right foramen is patent.
L4-5: There is a far left paramedian and lateral annular tear with a mild diffuse bulge of the annulus. There is mild facet arthropathy. There is prominent epidural fat. There is no stenosis of the bony canal. The right foramen is patent. There is encroachment upon the left foramen with mild contact of the annulus with the undersurface of the left L4 nerve root.
L5-S1: There is a broad based 5 mm central herniation of the nucleus pulposus of the protrusion type. There is effacement of the ventral margin of the S1 nerve roots bilaterally and the ventral thecal sac. There is mild facet arthropathy. There is no significant stenosis. The foramina are patent bilaterally. 
CONCLUSIONS: 
  L3-4: ASYMMETRIC LEFT LATERAL BULGE OF THE ANNULUS WITH MILD FACET ARTHROPATHY. I CANNOT EXCLUDE A VERY SMALL LATERAL ANNULAR TEAR. THERE IS NO CONTACT OF THE ANNULUS WITH THE LEFT L3 NERVE ROOT HOWEVER THERE APPEARS TO BE SOME SUPERIOR DISPLACEMENT OF THE LEFT L3 NERVE ROOT WITHIN THE FORAMEN. 
L4-5: FAR LEFT PARAMEDIAN AND LATERAL ANNULAR TEAR EXTENDING INTO THE LEFT FORAMEN. THERE IS CONTACT OF THE ANNULUS WITH THE LEFT L4 NERVE ROOT. THERE IS MILD FACET ARTHROPATHY. 
L5-S1: 5 MM BROAD BASED HERNIATION OF THE NUCLEUS PULPOSUS OF THE PROTRUSION TYPE EFFACING THE VENTRAL MARGIN OF THE S1 NERVE ROOTS BILATERALLY AND THE VENTRAL MARGIN OF THE THECAL SAC. THERE IS MILD FACET ARTHROPATHY.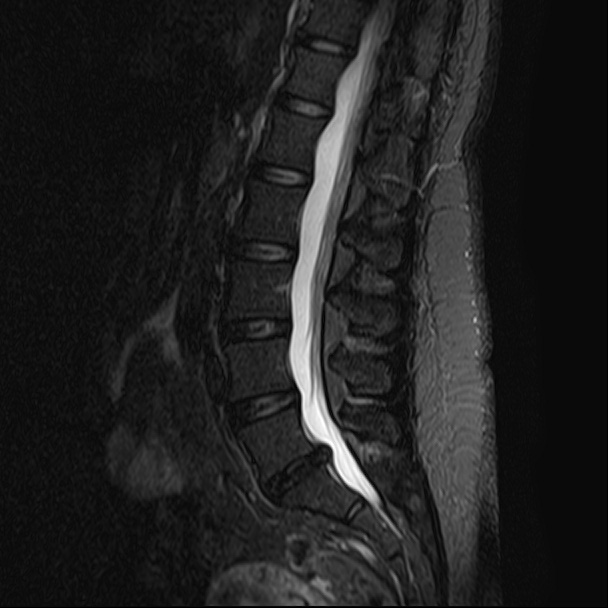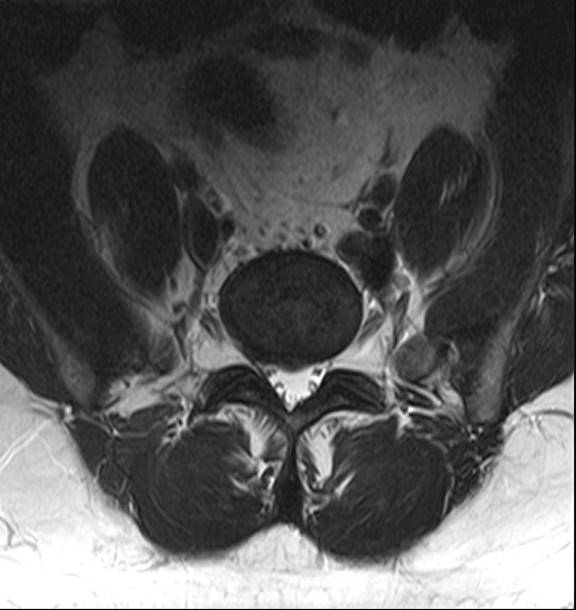 ---
SECOND - MRI LUMBAR SPINE - 09/2017
  CLINICAL INDICATIONS: Severe low back pain. Motor vehicle accident 8/2/2016 radiating down the right leg with weakness for 3 weeks.
  IMAGING SEQUENCES: Three planar localization images followed by sagittal T1, T2, inversion recovery, as well as additional axial proton and T2 imaging.
  FINDINGS: Alignment is satisfactory in the sagittal plane. There is normal bone marrow signal. There is a loss of height and signal at L5-S1. The remaining discs show normal height and signal. The conus terminates at the T12-L1 level.
  At T12-L1 through L2-3 the neural canal and foramina appear widely patent.  
 At L3-4 there is a left lateral disc protrusion measuring over 3.5 mm indenting the inferior aspect of the left neural foramina causing mild narrowing. Right neural foramina and neural canal are patent.
  At L4-5 there is a broad based bulge of the annulus with a tiny left lateral annular tear. The neural canal and foramina are patent.
   At L5-1 there is a large right paracentral and central focal disc protrusion measuring 12 mm in size effacing the thecal sac and compressing the nerve roots to the left of midline and displacing them. The right neural foramina shows mild to moderate narrowing with nerve roots abutted by the superior surface of the disc. 
  IMPRESSION: 
 1.  LEFT LATERAL DISC PROTRUSION MEASURING 3.5 MM AT THE L3-4 LEVEL CAUSING MILD NARROWING OF THE LEFT NEURAL FORAMINA. 
 2.  AT L4-5 THERE IS A BULGE OF THE ANNULUS WITH A TINY ANNULAR TEAR TO THE LEFT OF MIDLINE. 
 3.  AT L5-S1 THERE IS A CENTRAL RIGHT PARACENTRAL FOCAL DISC PROTRUSION MEASURING 12 MM EFFACING THE THECAL SAC AND ABUTTING THE EXITING NERVE ROOTS WITH A MILD TO MODERATE NARROWING OF THE RIGHT NEURAL FORAMINA. 
 4.THESE FINDINGS ARE CONSISTENT WITH PHASE II PATHOPHYSIOLOGY OF THE CHIROPRACTIC CLINICAL DIAGNOSIS OF VERTEBRAL SUBLUXATION COMPLEX. CLINICAL CORRELATION IS RECOMMENDED.               
Respectfully,
Mark Studin DC, FASBE(C), DAAPM, DAAMLP


Adjunct Associate Professor of Chiropractic, University of Bridgeport, College of Chiropractic
Adjunct Professor, Division of Clinical Sciences, Texas Chiropractic College
Educational Presenter, Accreditation Council for Continuing Medical Education Joint Partnership with the State University of New York at Buffalo, School of Medicine and Biomedical Sciences

Academy of Chiropractic
US Chiropractic Directory
631-786-4253

PLEASE TAKE FURTHER NOTICE: CONFIDENTIALITY AND PROPRIETARY INFORMATION NOTICE: This email including attachments is covered by the Electronic Communications Privacy Act (18 U.S.C. 2510-2521) and contains confidential information belonging to the sender. Nothing contained in this message or in any attachment shall constitute an Electronic Signature or be given legal effect under 44 U.S.C. 3504 Sec. 1707. The information is intended only for the use of the individual or entity to which it is addressed. If the recipient of this message is not the intended recipient, you are at this moment notified that any unauthorized disclosure, dissemination, distribution or reproduction of this message or any attachments of this communications is strictly prohibited and may be unlawful. If this communication has been received in error, please notify the sender immediately by return email, and delete or destroy this and all copies of this message and all attachments.