Academy of Chiropractic Personal Injury & Primary Spine Care Program
Quickie Consult 813
Marketing 75 G

From the Desk of Dr. Mark Studin
Preamble: many of these issues are small, yet each issue is just that… an issue. If you take care of the small issues, then the larger issues often take care of themselves and you can focus on the larger issues… a larger, more profitable practice and more family time.
"New Magic Language Critical Piece"
"Do Shortcuts Work? A sucker is born every day" Mark Studin 2017
The following graphic, once understood is perhaps the most compelling reason a lawyer should work with you. This also underscores why simply relying on "super-magical Colossus paperwork" will eventually fail. Yes, the Colossus algorithms are very important, but still a small piece of the puzzle.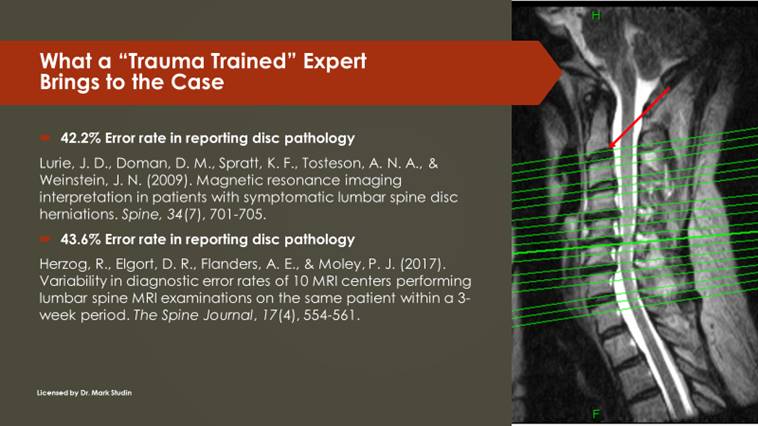 Can you imagine the reaction of the lawyer when you tell them the radiologist missed the herniation and you just made their case from a posture of clinical excellence at the highest level of ethics? Then you back it up with research and give them the ammunition they need to overturn the challenge from their opponent. This slide gives them everything needed, but the expert… YOU… to accurately interpret the image and then conclude a diagnosis.
With the wrong or missing herniation diagnosis, the Colossus algorithm is basically USELESS!!!!
In addition, this gives you CREDIBITLITY and will get the lawyer to listen IF you have the proper credentials verified via your CV. 


FACT: Most lawyers today still
Do not believe Colossus is real
Only want to get a herniation diagnosis
Do not believe chiropractic is a viable solution
Do not listen
Watch magic language video and conversation. Section #15 sections #35 - #36


"There's a sucker born every minute" a phrase that is associated with PT Barnum (although never verified), but actually claimed by David Hannum in the 1860's. This rings true to me when I read others who claim that being "Colossus Compliant" as the solution to a HUGE personal injury practice. If that was true, everyone who had Colossus paperwork would have huge practices and I can tell you factually that is not true!!! The real winners are the showman with great ads to get your money!!!


In addition, some of those Colossus courses with inflammatory claims are being taught by "Colossus Certified Consultants."  I have been asked by our doctors how to get this credential and I don't know. Perhaps you should ask those doctors who use the credential who certified them? What organization or educational entity is behind it? I raise that because EVERY ONE OF YOU EARNED YOUR CREDENTIALS… They just weren't handed to you.


I am all for marketing, no matter what anyone is selling… BUT… it has to be with integrity. Caveat Emperor!!!



Respectfully,


Mark Studin DC, FASBE(C), DAAPM, DAAMLP


Adjunct Assistant Professor of Chiropractic, University of Bridgeport, College of Chiropractic
Adjunct Professor, Division of Clinical Sciences, Texas Chiropractic College
Educational Presenter, Accreditation Council for Continuing Medical Education Joint Partnership with the State University of New York at Buffalo, School of Medicine and Biomedical Sciences

Academy of Chiropractic
US Chiropractic Directory
631-786-4253
PLEASE TAKE FURTHER NOTICE: CONFIDENTIALITY AND PROPRIETARY INFORMATION NOTICE: This email including attachments is covered by the Electronic Communications Privacy Act (18 U.S.C. 2510-2521) and contains confidential information belonging to the sender. Nothing contained in this message or in any attachment shall constitute an Electronic Signature or be given legal effect under 44 U.S.C. 3504 Sec. 1707. The information is intended only for the use of the individual or entity to which it is addressed. If the recipient of this message is not the intended recipient, you are at this moment notified that any unauthorized disclosure, dissemination, distribution or reproduction of this message or any attachments of this communications is strictly prohibited and may be unlawful. If this communication has been received in error, please notify the sender immediately by return email, and delete or destroy this and all copies of this message and all attachments.