Academy of Chiropractic Personal Injury & Primary Spine Care Program
Quickie Consult 782
Testifying 11 T

From the Desk of Dr. Mark Studin
Preamble: many of these issues are small, yet each issue is just that… an issue. If you take care of the small issues, then the larger issues often take care of themselves and you can focus on the larger issues… a larger, more profitable practice and more family time.
"Overturning Deceptive Carrier Fiction"
"I am better. Don't ask me, it's in writing." Mark Studin 2017



And the award please for 
"Best Bullshit in Class"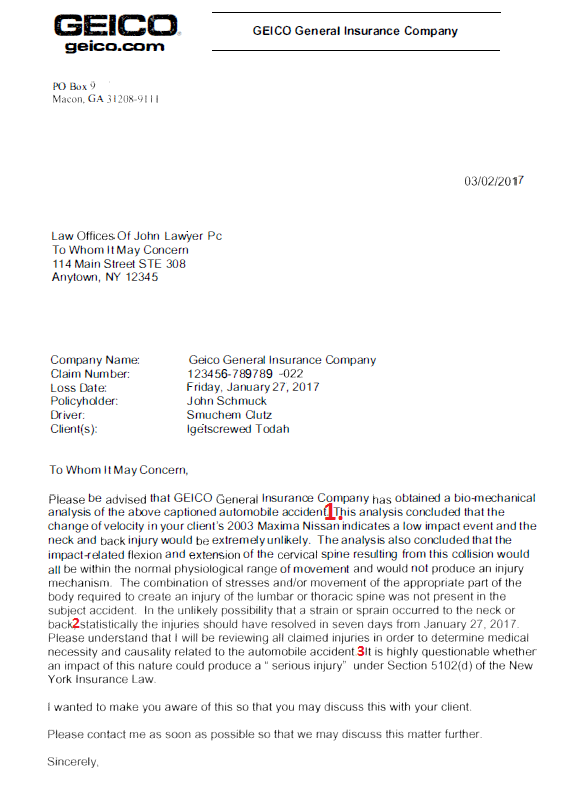 The above letter was received today from a lawyer in New York. It was written a few weeks ago, but the lawyer claims that he gets dozens of these a month from various carriers and asked me what he should do and who should he use as money is not an object for him to reverse this trend in his practice. My answer was to simply point out #1, #2 & #3 in the letter above and reminded the lawyer that in EVERY case I have reviewed on this subject (which is extensive), this is deceptive defense rhetoric created by the claims adjustor with no doctor or other expert opinion on the conclusion. 


The solution is for me to do a P-IME on this patient and then directly request the records and license of the professionals and experts who concluded his opinion. However, #1 requires Accident Engineering/Reconstruction knowledge and credentials. I have come to realize that our Accident Reconstruction course although outstanding, is not enough and neither is Arthur Croft's Spine Institute of San Diego programs. Both are incredible programs, but you need more, and additional credentials are concurrently needed to reconstruct an accident and determine coefficient of forces that transfer from the bullet car to the target car to the occupant. In addition, you need the training in Physics and the math to demonstrably illustrate those findings so that it is based on facts and not merely rhetoric. 


Therefore, I have spent the last year working with Patrick Sundby Accident Engineer/Investigator and have created the following for you:


CLICK ANYWHERE ON THE NAME TO BE TAKEN TO THE COURSE


The Collision Reconstruction & Biomechanical Engineering course is engineered to teach how to analyze an accident scene, inclusive of road surfaces, skid marks, the automobile and occupant and can reconstruct both the event and then be equipped to opine on force coefficients as causation for bodily injury. This is a comprehensive level of education inclusive of crash analytics that encompasses the math and physics to reconstruct high and low speed motor vehicle accidents and by using the math to determine causation of bodily injury.


This course is interactive with your professors, who will be grading papers and offering tutorials with the math. The outline on the Web site (
click here
) details this "Master's Level of Education" without the cost of a Master's Degree, yet inclusive of professional level credentials through Texas Chiropractic College. 
There is a reason why certain doctors win at a higher level than others. Be smarter and get credentialed so that you are the EASY BUTTON at every level for the lawyer.


Respectfully,



Mark Studin DC, FASBE(C), DAAPM, DAAMLP


Adjunct Assistant Professor of Chiropractic, University of Bridgeport, College of Chiropractic
Adjunct Professor, Division of Clinical Sciences, Texas Chiropractic College
Educational Presenter, Accreditation Council for Continuing Medical Education Joint Partnership with the State University of New York at Buffalo, School of Medicine and Biomedical Sciences


Academy of Chiropractic

US Chiropractic Directory
631-786-4253
PLEASE TAKE FURTHER NOTICE: CONFIDENTIALITY AND PROPRIETARY INFORMATION NOTICE: This email including attachments is covered by the Electronic Communications Privacy Act (18 U.S.C. 2510-2521) and contains confidential information belonging to the sender. Nothing contained in this message or in any attachment shall constitute an Electronic Signature or be given legal effect under 44 U.S.C. 3504 Sec. 1707. The information is intended only for the use of the individual or entity to which it is addressed. If the recipient of this message is not the intended recipient, you are at this moment notified that any unauthorized disclosure, dissemination, distribution or reproduction of this message or any attachments of this communications is strictly prohibited and may be unlawful. If this communication has been received in error, please notify the sender immediately by return email, and delete or destroy this and all copies of this message and all attachments.