Academy of Chiropractic Personal Injury & Primary Spine Care Program
Quickie Consult 692
Office Systems 55 OS

From the Desk of Dr. Mark Studin
Preamble: many of these issues are small, yet each issue is just that… an issue. If you take care of the small issues, then the larger issues often take care of themselves and you can focus on the larger issues… a larger, more profitable practice and more family time.
"Are you in line to get BIT IN THE ASS?"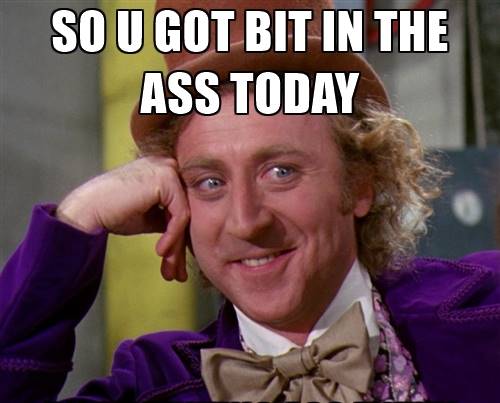 Call #1: I am testifying today and I realized that I saw the patient for 6 months and I didn't do a re-evaluation, how do I handle that?
Call #2: I just got an audit and they want justification for 9 months of ongoing care. I didn't do any re-evaluations. What do I say?
Call #3: The carriers won't pay beyond 30 days and state it is because I didn't do a re-evaluation. How do I leverage them to pay me?
Call #4: The carriers just sent me a demand letter for full repayment of every patient over the last 5 years who they insured based on 3 chart reviews. I treated a total of 73 of their insureds during that time frame. The basis of the demand is no re-evaluations. How can I fight them?
Call #5: I am being sued in Federal Court by the carriers under the RICO Federal Racketeering provision. I just reviewed my records and didn't do timely re-evaluations… actually in 8 months I only did 1. My lawyer wants to retain you to help me get around that. Can you help me? 
Call #6: I have never been challenged by anyone for not doing re-evaluations. Why should I waste my time to do when I already know what to do? 
Dear Caller #6, please read the experiences of callers #1-5… Then read the Federal Register for the re-evaluation rules that EVERY carrier and licensure board follows… This includes cash patients… Asshole!!!!
Reasons for not doing any or timely re-evaluations:
1.  You are lazy
2.  You are lazy
3.  You are lazy
4.  You are lazy
5.  You are lazy
6.  You are lazy
7.  You are lazy
8.  You are lazy
9.  You are stupid… yes I risk insulting every person who doesn't do them. However, if my rants and insults gets you to do them…then I will sleep well at night knowing you will never have to worry about #1-#5 (and #6-#10 that I didn't list) above and I have done my job!
P.S. In today's political climate, I sincerely apologize if I sound too much like 1 of the candidates who is a blowhard (they both have their faults, but I am now referring to only 1). My goal is to only ensure you too sleep well at night and I picked one of the obnoxious diatribes from his playbook!!!! I doubt this will ever work with a foreign country, but I hope it will work with you because it comes from love!!!!
Respectfully,




Mark Studin DC, FASBE(C), DAAPM, DAAMLP

Adjunct Assistant Professor of Chiropractic, University of Bridgeport, College of Chiropractic
Adjunct Professor, Division of Clinical Sciences, Texas Chiropractic College
Educational Presenter, Accreditation Council for Continuing Medical Education Joint Partnership with the State University of New York at Buffalo, School of Medicine and Biomedical Sciences
 Academy of Chiropractic US Chiropractic Directory
631-786-4253
PLEASE TAKE FURTHER NOTICE: CONFIDENTIALITY AND PROPRIETARY INFORMATION NOTICE: This email including attachments is covered by the Electronic Communications Privacy Act (18 U.S.C. 2510-2521) and contains confidential information belonging to the sender. Nothing contained in this message or in any attachment shall constitute an Electronic Signature or be given legal effect under 44 U.S.C. 3504 Sec. 1707. The information is intended only for the use of the individual or entity to which it is addressed. If the recipient of this message is not the intended recipient, you are at this moment notified that any unauthorized disclosure, dissemination, distribution or reproduction of this message or any attachments of this communications is strictly prohibited and may be unlawful. If this communication has been received in error, please notify the sender immediately by return email, and delete or destroy this and all copies of this message and all attachments.