Academy of Chiropractic Personal Injury & Primary Spine Care Program
Quickie Consult 613
Infrastructure 144 I

From the Desk of Dr. Mark Studin
Preamble: many of these issues I bring are small, yet each issue is just that… an issue. If you take care of the small issues, then you will be able to build and focus on the larger issues… a larger, more profitable practice along with more family time. 
Who is the perpetrator and who is the victim?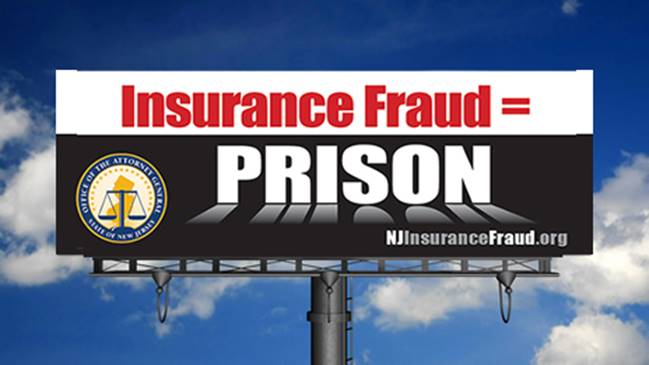 I have seen this billboard while driving on the New Jersey Turnpike and it is factual. Insurance fraud equates to jail time for everyone…except for most on the side of the insurance carriers. New Jersey also has a law that reads:
According to the New Jersey False Claims Act. "Supplementing Title 2A of the New Jersey Statutes and amending P.L.1968, c.413. Knowing" or "knowingly" means, with respect to information, that A person:
(1) has actual knowledge of the information; or
(2) acts in deliberate ignorance of the truth or falsity of the information; or (3) acts in reckless disregard of the truth or falsity of the information. No proof of specific intent to defraud is required.  


This means that the fraud arrow points both ways and every state in the nation has a similar law. The problem is that the carriers are invoking the "fraud" tag in every legislative agenda, in every law suit and in every potential SIU (special investigative unit) inquiry with YOU as the target. The real problem is that you are NOT invoking the same "fraud tag" keeping the bullseye on you.


This is factual and you have the same rights. The only problem is that most of you are either afraid or too lazy to fight the carriers which is done through an IME or a peer review rebuttal. There are laws on your side and provided your paperwork is clean, you HAVE TO FIGHT THEM, which is one of the current and future trends for 2016 and 2017 to ensure payments. 


The carriers are "doubling down" and now using claim adjustors to render medical opinions across the country because they know that you will NOT fight back and they are laughing "all the way to the bank" with your money!!! 


The first step is to ensure you have clean paperwork because you can't fight if your documentation is poor. To ensure you have clean paperwork, you have 3 opportunities: 


1.  I do a compliance review of your documentation with all new members, so you've had one if you have followed the rules of the program when you started. 


2.  Dr. Schonfeld does a paper review on accuracy with his creating narratives for you. 
CLICK HERE


3.  Dr. Manoni does a paper review for accuracy and compliance when he writes an IME or peer review rebuttal for you. 
CLICK HERE


All 3 give you someone to look "over your shoulder" and give you suggestions on how to clean up your paperwork and advise you to not fight a losing battle because of your documentation deficiencies. Our goal is to help teach you to be the "best of the best" in your documentation as well as your clinical acumen. 


To run an efficient streamlined office, you should take advantage of all 3 opportunities. One is not more important than the others with the exception of Dr. Manoni doing an IME or peer review rebuttal because most of you are not doing them at all and this will irreparably hurt your business because you often cannot recoup honest services performed that you might have to forfeit due to statute of limitations for rendering a complaint. 
Respectfully,



Mark Studin DC, FASBE(C), DAAPM, DAAMLP
Adjunct Assistant Professor of Chiropractic, University of Bridgeport, College of Chiropractic
Adjunct Professor, Division of Clinical Sciences, Texas Chiropractic College
Educational Presenter, Accreditation Council for Continuing Medical Education Joint Partnership with the State University of New York at Buffalo, School of Medicine and Biomedical Sciences
Academy of Chiropractic
US Chiropractic Directory
631-786-4253
PLEASE TAKE FURTHER NOTICE: CONFIDENTIALITY AND PROPRIETARY INFORMATION NOTICE: This email including attachments is covered by the Electronic Communications Privacy Act (18 U.S.C. 2510-2521) and contains confidential information belonging to the sender. Nothing contained in this message or in any attachment shall constitute an Electronic Signature or be given legal effect under 44 U.S.C. 3504 Sec. 1707. The information is intended only for the use of the individual or entity to which it is addressed. If the recipient of this message is not the intended recipient, you are at this moment notified that any unauthorized disclosure, dissemination, distribution or reproduction of this message or any attachments of this communications is strictly prohibited and may be unlawful. If this communication has been received in error, please notify the sender immediately by return email, and delete or destroy this and all copies of this message and all attachments.