Academy of Chiropractic Personal Injury & Primary Spine Care Program
Quickie Consult 583
Lawyers Meetings 52L 

From the Desk of Dr. Mark Studin
Preamble: many of these issues I bring are small, yet each issue is just that… an issue. If you take care of the small issues, then you will be able to build and focus on the larger issues… a larger, more profitable practice along with more family time. 
"Bi-Monthly Fliers vs. Evidenced Based Book"
For the past decade I have been compiling and creating both independently and with Dr. Owens the bimonthly flyers. This has been the foundation and core of the education that you offer the attorneys and one of the prime reasons for them to continually work with you. On an ongoing basis the lawyers have given consistent, positive feedback that those flyers have helped them prevail in their cases and undo much of the false rhetoric of the defense regarding the bodily injuries of your patients, their clients.


Understanding that perception is everything from a marketing perspective, Dr. Owens and myself embarked on putting a significant amount of the flyers into book format. As I explained previously we accomplish that and if you go to 
www.Lulu.com
 and in the search box type "studin" you will find the book in paperback format. Unfortunately, too many of you try to cut corners and have ordered the electronic version and then attempted to reproduce it in print format. Please let remind you that you already have this for free in your attempt to save $99 you pay for what I've given you as part of the program. In addition, should you have given the lawyer the books in electronic format you have defeated the purpose of the book in the first place.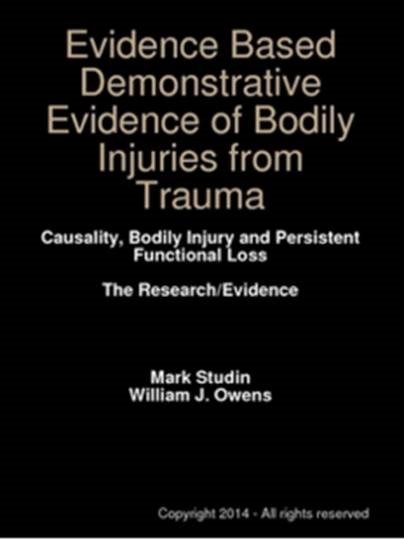 I just received this two days ago:


Mark,


I just had a second lunch meeting with an attorney I met through a shared case. This meeting I gave him the "Evidence based demonstrative evidence of bodily injuries from trauma" book and he was ecstatic. He looked like a kid who was given the teachers key to the test! He said this is exactly what he's been looking for to gain more understanding and he was he really impressed with all of the citations. I went over the first section of the book breaking down the information on each page so he could have a better working knowledge. We already have plans for future meetings to review more sections so I offered for him to bring some of the other attorneys from his office if they were interested in learning about this information…. He wants to come in to get evaluated as a patient himself.


Ohio
11-11-2015


The purpose of the book is to hand them an authoritative text where you can say that you have copies of every research article as well as a relationship with the authors who are on speed dial. Should there be a question we always have the opportunity to call them directly and talk to them. That is a powerful statement of position for you as both a resource and an expert. In addition, the main purpose for creating the book was to walk in and hand them a textbook versus a bunch of photocopies. The book is the first 101 bimonthly flyers and is less expensive at $99 than printing these in Staples in color. They must be delivered in color and do not be concerned about the attorneys having the first hundred and one chapters all at once because they need the research which you will deliver as you explain each chapter. In addition, you should explain to them that the second edition is being worked on and we are currently up to 144 chapters of which you are in possession of the additional 43 chapters that you can share with them with permission from the authors.


Many of you have asked for a discount, and the bastards at 
www.Lulu.com
 don't give me a discount either. I had to pay the full $99 for my own book however they periodically send discount codes to those who have signed up with them, which is a free process that you can do independently.
I urge you to use this tool as you can see from the above testimonial for the Dr. in Ohio… It works.


 
Respectfully,



Mark Studin DC, FASBE(C), DAAPM, DAAMLP
Adjunct Assistant Professor of Chiropractic, University of Bridgeport, College of Chiropractic
Adjunct Professor, Division of Clinical Sciences, Texas Chiropractic College
Educational Presenter, Accreditation Council for Continuing Medical Education Joint Partnership with the State University of New York at Buffalo, School of Medicine and Biomedical Sciences 


Academy of Chiropractic
US Chiropractic Directory
631-786-4253
PLEASE TAKE FURTHER NOTICE: CONFIDENTIALITY AND PROPRIETARY INFORMATION NOTICE: This email including attachments is covered by the Electronic Communications Privacy Act (18 U.S.C. 2510-2521) and contains confidential information belonging to the sender. Nothing contained in this message or in any attachment shall constitute an Electronic Signature or be given legal effect under 44 U.S.C. 3504 Sec. 1707. The information is intended only for the use of the individual or entity to which it is addressed. If the recipient of this message is not the intended recipient, you are at this moment notified that any unauthorized disclosure, dissemination, distribution or reproduction of this message or any attachments of this communications is strictly prohibited and may be unlawful. If this communication has been received in error, please notify the sender immediately by return email, and delete or destroy this and all copies of this message and all attachments.