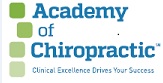 Academy of Chiropractic
PI & Primary Spine Care Program
Infrastructure  #28
From the Desk of  
Mark Studin DC, FASBE(C), DAAPM, DAAMLP


"You Will Become a Chiropractic Elitist Snob"


What being the BEST-Of-THE-BEST Does


Although you are just scratching the surface of this program, by now you should start to realize that we work in a much different level than anyone else in our industry. This program is built on a very strong infrastructure that touches every aspect of your practice inclusive of your paperwork, staff, communications, compliance, marketing, and business strategies. However, after decades of research and market testing the foundation of the most successful offices is their knowledge base and formal credentials behind that knowledge. My job is to provide you ever-changing business strategies so that you can stay "light years ahead" of the rest of the profession and ancillary competition.
If you do not stay ahead of the competition, you are falling behind. My business strategy for this program is to keep you one year ahead of the changes that are coming in the industry. As I shared with many of you before, by speaking to tens of thousands of lawyers a year, doctors in 47 states, interfacing with carriers almost on a daily basis and actively involved in academia I am able to stitch together the "future trends" of our industry to ensure compliance, reimbursement and a "never-ending" flow of the patient's.
For those of you who are just starting this program, let me fast-forward to what our doctors have become who have been in the program for at least one year. This is a typical internal narrative from one of our experienced doctors attending the chiropractic meeting not associated with the Academy of Chiropractic. In fact, this was the EXACT conversation related to me last week by one of our doctors attending a technique seminar:
Mark… I cannot believe that I was in the room with other spine doctors. There were dozens of chiropractors in the room and not one new what myelopathy is. Not one understands spinal biomechanics, and the sad part is, they don't care. When I tried to explain to them that there is a program to help them increase their clinical excellence, they weren't interested. All they wanted to do was what they had been doing their entire career yet complaining how bad things are while yielding a set of blinders so entrenched, they can't and won't see anything different. I also cannot believe that a few short months ago I was one of those schmucks and when I realize how far I have come and how much I now know I no longer fear to get new cases, getting paid or worrying that I miss something on the patient. Truthfully, I don't know if I can attend any further of these types of meetings that are attended and usually taught by idiots who won't remove their blinders.
Here is another typical comment I get:
Mark… Now that I have been through the infrastructure component of the program and the basic academics, I feel like I want to write an apology letter to every patient I took care of in the past and mismanaged. I have also communicated with many of my friends within the profession to share with them what I just experienced to help guide them to get better as a clinician and they look at me with blank stares or rush me on the phone. I can tell you with a great degree of certainty, it will be a very long time until I reconnect with any of these people because I can't stand being around stupidity now that I know better.
And another typical comment:
Mark… Holy crap, I have become you. When I walk into a room with chiropractors, I already know that I know more than anyone else in the room. I already know that when they give an opinion, it's going to be "the Ol Chiro one step two step." When I communicate with chiropractors, it's always with a little laugh in my answers or commentary, and truthfully, I no longer care. I do, however, worry for the future of our profession because I now realize that "business as usual" has been eroding utilization and damaging our reputation as spine specialists. Although I realize the "baton has been passed to me" to inspire others to get better clinically, I really hate talking to these assholes.
Although I could go on and on, you get the point. If you are one of our experienced doctors, you know exactly what I'm talking about because the above commentaries go on your head all the time when interfacing with others our profession. The scary part is when we look at our so-called "leadership." Take the presidents of our state and national organizations and see who was leaving us in the public eye. It's not scary, it's downright frightening to realize who is leading the majority the profession. It is for this reason that politics should not be setting any agenda for our profession beyond the lobbying efforts to ensure our rights to practice and get reimbursed.
If you are just getting started in this program, I promise you will be having the same internal conversations with people you chat with now and have held that to be in high esteem as a colleague. Again, those people you have held in high esteem in a very short amount of time you will have a new word for them; an idiot. Yes, I am going to turn you into a "chiropractic elitist snob" that is built purely on academics and knowing what to do with those academics with a business strategy that will carry you for the balance of your career.
To all of you, I am challenging you to recruit as many other doctors as you can to join our cause of becoming the best of the best through clinical excellence. Hopefully, by now, you realize that there is no competition in our profession. It doesn't matter if someone is a block away from you or 100 miles away from you because the only competition is referral entities and the public who don't understand chiropractic as primary spine care.
CAVEAT: I am not suggesting that our program is the only program in the industry teaching clinical excellence. There are many programs (although we are the only one teaching most of the topics we offer) however, most of the profession does not engage in meaningful post – doctoral education. Most do the minimum required for licensure and often nonsensical courses that do not support their career track in making them the best of the best through clinical excellence.