Academy of Chiropractic Personal Injury & Primary Spine Care Program
Quickie Consult 36 OS

From the Desk of Dr. Mark Studin
Preamble: Many of the issues I bring to you are very small, yet each issue is just that, an issue. If you take care of the small issues, then you will be able to build and more importantly, focus on the bigger issues...a larger practice and more family time.
A doctor received this today: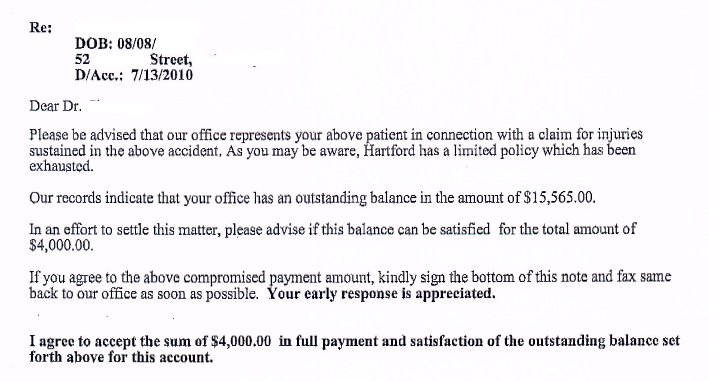 The response was as follows:

Dear Dewey, Cheatum and Howe Lawyers, 

Thank you for the generous offer to satisfy my lien. However, it is my business policy to NEVER accept more than 1/3 of the total settlement in fairness to both the work you accomplished to arrive at this point and ensure my patient gets compensated for their bodily injuries. 

In order to consider lowering my fees to that amount, I would need a copy of the settlement check and an accounting of all fees dispersed including, but not limited to the lawyers. Please also understand that I am also going to be ONLY accepting the same percentage of fee reduction as your office should there not be sufficient funds in the settlement for my full fee. 

In absence of complete documentation, I will be expecting my full fee of $15,565.00 within 10 business days of settlement. 
PLEASE TAKE FURTHER NOTICE: CONFIDENTIALITY AND PROPRIETARY INFORMATION NOTICE: This email including attachments is covered by the Electronic Communications Privacy Act (18 U.S.C. 2510-2521) and contains confidential information belonging to the sender. Nothing contained in this message or in any attachment shall constitute an Electronic Signature or be given legal effect under 44 U.S.C. 3504 Sec. 1707. The information is intended only for the use of the individual or entity to which it is addressed. If the recipient of this message is not the intended recipient, you are at this moment notified that any unauthorized disclosure, dissemination, distribution or reproduction of this message or any attachments of this communications is strictly prohibited and may be unlawful. If this communication has been received in error, please notify the sender immediately by return email, and delete or destroy this and all copies of this message and all attachments.