Academy of Chiropractic Personal Injury & Primary Spine Care Program
Quickie Consult 57 CI

From the Desk of Dr. Mark Studin
Preamble: Many of the issues I bring to you are very small, yet each issue is just that, an issue. If you take care of the small issues, then you will be able to build and more importantly, focus on the bigger issues...a larger practice and more family time.
This came from Tennessee today:
New patient today, 9-13-2013.  25 year old  male, wrestling and drinking with buddies one month ago, held upside down and dropped on his head.  Was in bed for 3 weeks and now comes to see us.
I took these films before doing anything as when asked if sneezing or coughing aggravates his eyes got REAL big and he says, "man if I sneeze I have to physically hold my head with both hands (one on anterior forehead, another on chin) to keep my head from flexing forward.  It really hurts and everything goes numb for a few seconds when that happens."
We burned them the films to disc and had him transported (by friend) to the hospital.
The only thing I would have suggested was to dial 911 and have an ambulance transport the patient. A sneeze in his friend's car in transport could have created a huge issue.
NOTE: In case you cut every x-ray class, pay attention to C6-C7 and C7-T1. I am also ignoring all other biomechanical failures and only focusing on the urgent scenario.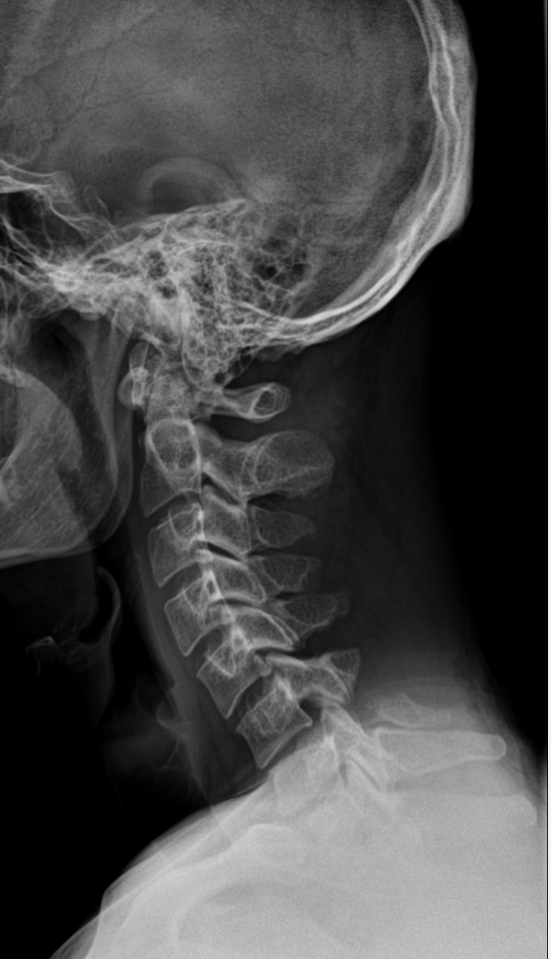 PLEASE TAKE FURTHER NOTICE: CONFIDENTIALITY AND PROPRIETARY INFORMATION NOTICE: This email including attachments is covered by the Electronic Communications Privacy Act (18 U.S.C. 2510-2521) and contains confidential information belonging to the sender. Nothing contained in this message or in any attachment shall constitute an Electronic Signature or be given legal effect under 44 U.S.C. 3504 Sec. 1707. The information is intended only for the use of the individual or entity to which it is addressed. If the recipient of this message is not the intended recipient, you are at this moment notified that any unauthorized disclosure, dissemination, distribution or reproduction of this message or any attachments of this communications is strictly prohibited and may be unlawful. If this communication has been received in error, please notify the sender immediately by return email, and delete or destroy this and all copies of this message and all attachments.