Academy of Chiropractic Personal Injury & Primary Spine Care Program
Quickie Consult 45 CI

From the Desk of Dr. Mark Studin
Preamble: Many of the issues I bring to you are very small, yet each issue is just that, an issue. If you take care of the small issues, then you will be able to build and more importantly, focus on the bigger issues...a larger practice and more family time.
This case was sent to me by Dr. Bill Owens
I was referred a patient by an attorney that was unhappy with how other doctors had worked her up.  She had an MRI, with no disc herniations, however what the radiologist did NOT report were the Schmorl's Nodes present at T8-9 and L1-2.  The thoracolumbar region is the #1 region to have an ACUTE Schmorl's Node (which is essentially a vertical disc herniation that fractures the endplate).  There were no degenerative changes surrounding those levels, so it was highly likely that these were NOT degenerative (which is the prevailing thought process).  I immediately ordered a bone scan and below is the result.  Now we have objective documentation of WHY her lower back pain has persisted...fractures in those levels and 2 rib fractures.  Proper correlation is critical, if I didnt read the MRI, if I wasn't CERTIFIED this would have all gone undiscovered and this patient would have lived her life thinking she was crazy.  She is 38 year old.
BONE SCAN OF THE LUMBOSACRAL SPINE  
CLINICAL INDICATION: History of lower thoracic and lumbar spine pain due to injury during MVA on 9/10/2011.   
IMAGING SEQUENCES:  Rapid sequence posterior scanning of lower thorax and lumbosacral spine was performed following bolus intravenous injection of 25.0 mCi technetium 99m MDP in a vein in the right antecubital fossa.  Then, immediate blood pool scans of the lower thorax and lumbosacral spine were obtained anterior and posterior projections.  Two hours following radiotracer injection, total body bone scans as well as SPECT images of the lower thoracic and upper lumbar spine were obtained.  
FINDINGS:  Rapid sequences angiographic scans show no asymmetric or abnormal focal radiotracer accumulation.  Immediate blood pool images show no abnormal focal radiotracer accumulation.  Normal uptake in the kidneys is seen. 
Delayed images and SPECT images show linear increased uptake in L1 and T8 vertebral bodies suspicious for minimal compression fractures.  The remainder of the spine is unremarkable.  Increased uptake in the anterior margin of the right third and sixth ribs are noted suspicious for injury/fractures.  The sternum is unremarkable.  The left rib cage, the shoulder girdles, the upper extremities, the facial bones, the skull, the pelvis, hips and lower extremities are unremarkable. 
IMPRESSION:  SUSPICION FOR SUBACUTE FRACTURES WITH INCREASED UPTAKE ASSOCIATED WITH THE ANTERIOR OSSEOUS MARGINS OF THE RIGHT THIRD AND SIXTH RIBS AND IN T8 AND L1 VERTEBRAL BODIES.  IF CLINICALLY WARRANTED, FURTHER EVALUATION WITH MRI OF THE THORACIC SPINE AND LUMBAR SPINE CAN BE HELPFUL FOR FURTHER ASSESSMENT.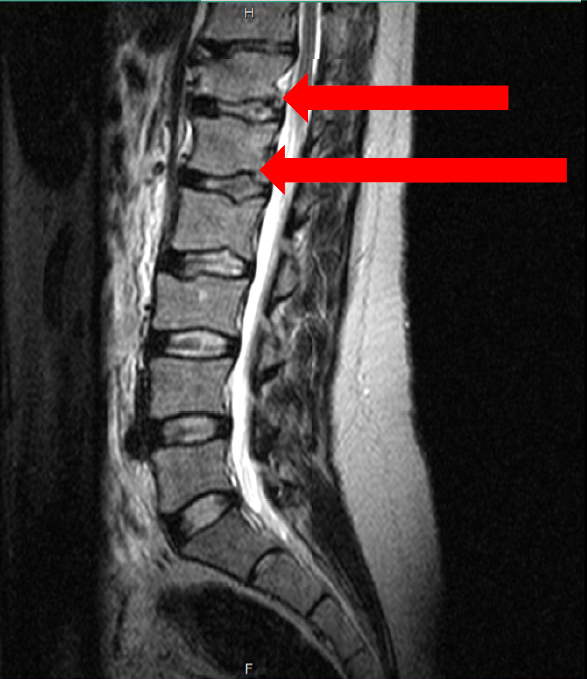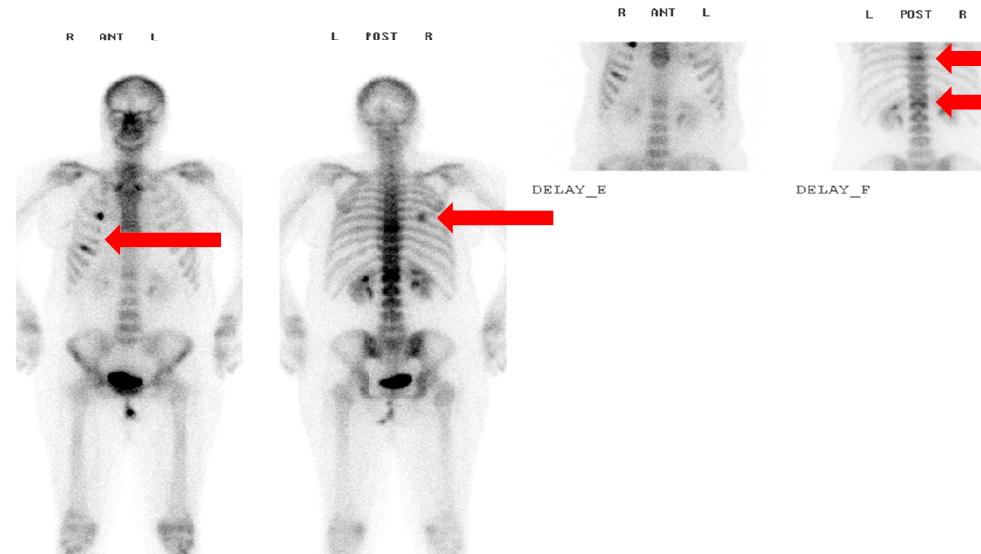 PLEASE TAKE FURTHER NOTICE: CONFIDENTIALITY AND PROPRIETARY INFORMATION NOTICE: This email including attachments is covered by the Electronic Communications Privacy Act (18 U.S.C. 2510-2521) and contains confidential information belonging to the sender. Nothing contained in this message or in any attachment shall constitute an Electronic Signature or be given legal effect under 44 U.S.C. 3504 Sec. 1707. The information is intended only for the use of the individual or entity to which it is addressed. If the recipient of this message is not the intended recipient, you are at this moment notified that any unauthorized disclosure, dissemination, distribution or reproduction of this message or any attachments of this communications is strictly prohibited and may be unlawful. If this communication has been received in error, please notify the sender immediately by return email, and delete or destroy this and all copies of this message and all attachments.