Academy of Chiropractic Personal Injury & Primary Spine Care Program
Quickie Consult 37 CI

From the Desk of Dr. Mark Studin
Preamble: Many of the issues I bring to you are very small, yet each issue is just that, an issue. If you take care of the small issues, then you will be able to build and more importantly, focus on the bigger issues...a larger practice and more family time.
"What to Do with MRIs that are Non-Diagnostic"
I received this today from Dr. Richard Hathcock in Memphis, Tennessee and with his permission, I am sending you the specifics of the case. He explained: My patient is having severe cervical pain with significant loss of unilateral grip strength. I ordered an MRI and the report indicated the patient was coughing quite a bit and they were able to salvage a few images and conclude a partial diagnosis. As a result of Dr. Hathcock's having taken both MRI courses, he recognized significant potential pathology as a result of personally reviewing the images and the potential of hurting the patient without a clean image and conclusive diagnosis. 
The following are the MRI images and resultant report: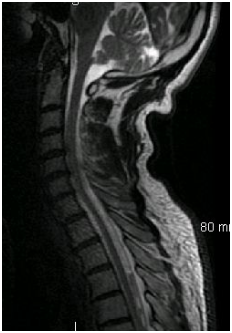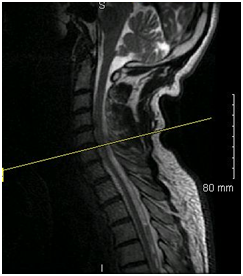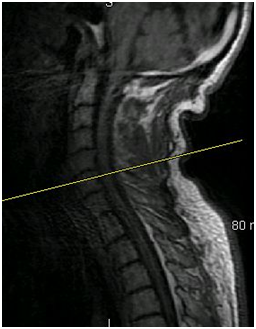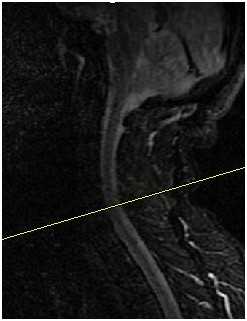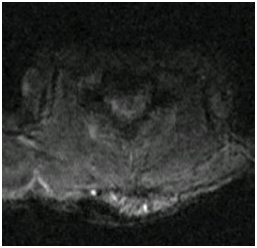 The following is a report written by a general radiologist and is 100% incorrect.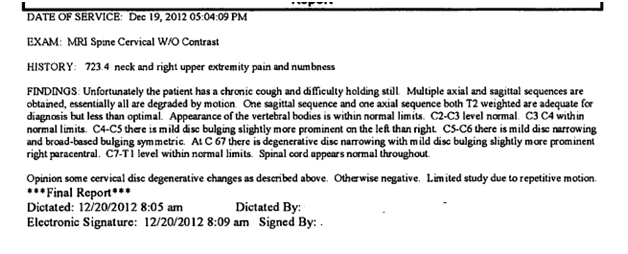 Dr. Hathcock's response: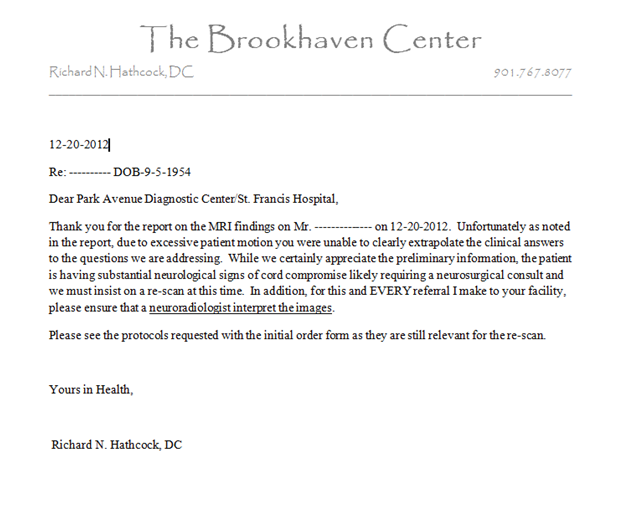 As a result of this doctor being certified in MRI through his post-doctoral training (MRI courses #1 & 2), he averted a possible adverse reaction to care with the disc abutting the cord that was missed on the interpretation by the general radiologist. In addition, he was able to understand through interpreting the films independently that what was wrong with this patient cannot be concluded with the images provided and based on CLINICAL EXCELLENCE, demanded a re-taking of the images. This is the way it is supposed to be and an example of the patient winning as a result.
PLEASE TAKE FURTHER NOTICE: CONFIDENTIALITY AND PROPRIETARY INFORMATION NOTICE: This email including attachments is covered by the Electronic Communications Privacy Act (18 U.S.C. 2510-2521) and contains confidential information belonging to the sender. Nothing contained in this message or in any attachment shall constitute an Electronic Signature or be given legal effect under 44 U.S.C. 3504 Sec. 1707. The information is intended only for the use of the individual or entity to which it is addressed. If the recipient of this message is not the intended recipient, you are at this moment notified that any unauthorized disclosure, dissemination, distribution or reproduction of this message or any attachments of this communications is strictly prohibited and may be unlawful. If this communication has been received in error, please notify the sender immediately by return email, and delete or destroy this and all copies of this message and all attachments.