Academy of Chiropractic Personal Injury & Primary Spine Care Program
Quickie Consult 25 CV

From the Desk of Dr. Mark Studin
Preamble: Many of the issues I bring to you are very small, yet each issue is just that, an issue. If you take care of the small issues, then you will be able to build and more importantly, focus on the bigger issues...a larger practice and more family time.
"Certification in MRI Spine Interpretation"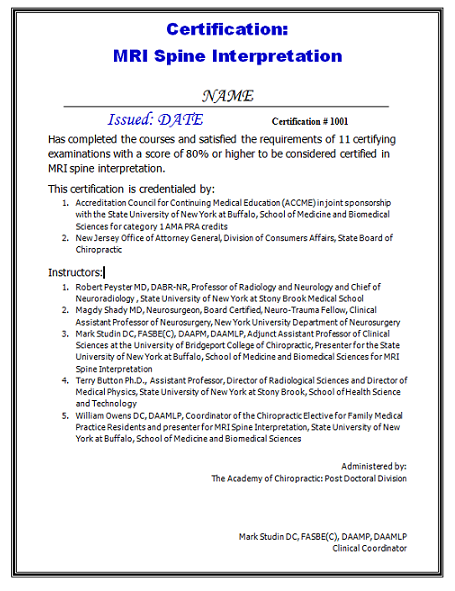 Last week when I lectured at the trial lawyers mid-year convention (New Jersey Association for Justice) where there were 650 lawyers in attendance and a few hundred were present in my presentation called the "Automobile Part," I had an opportunity to listen to many other speakers and talk to many other legal experts. The most significant part of the day was with a lawyer who is the legislative and litigation chairman for the organization. He was discussing with me the upcoming battle in the appellate division regarding chiropractors being allowed to testify on spinal MRIs. Part of the issue at hand is that the chiropractor has only a few hours given by the state chiropractic organization as he explained it to me. When I shared with him that our courses were certified by both a chiropractic entity, the AMA, and a medical school, with the professors being both in medicine and chiropractic and that testing was mandated to earn credits, he was very excited. He then asked me for a copy of the certification in MRI spine interpretation for the DCs. I responded that the certification was within the citations on our CVs and he asked for a copy of it to utilize in his litigation supporting chiropractic.
I proceeded to have numerous other conversations with both lawyers and DCs around the country because in years past, many doctors wanted to know if they could get certification for the course. My response was always your credentials speak for themselves and certification is not necessary. However, with today's admissibility requirements for a doctor of chiropractic to be able to testify on MRI, credentials matter tremendously and certification will make things much easier. Therefore, we are changing the game to ensure that every doctor of chiropractic has the requisite credentials that can be accepted in court so that your verbal testimony will be accepted as evidence on MRI findings. That is what admissibility means and lawyers, claims examiners and judges will be looking for your certification. This is the NEW standard as I have had that request form numerous states from coast to coast. My conversations in the New Jersey trial lawyers meeting confirmed it. I then spoke to lawyers in 3 other states to verify the current standards of the courts and the leverage certification offers.
Although courses purely within a chiropractic realm SHOULD be sufficient, there are myopic judges that have drank the kool-aid form the defense lawyers and are not allowing a chiropractic education to be sufficient in being certified as expert in MRI spine interpretation. I am fighting rigorously to challenge those denials, yet at the same time, I am also ensuring that you have the ability to be expert, represent your patient or simply be expert in MRI and certified as such by the courts.
Over the last few months, I have gotten too many phone calls from DCs nationally who say, "I should have listened to you before and gotten the credentials. It has now cost me relationships with lawyers and settlement money because cases have been lost." Do not put yourself in that position. Practice the 6 Ps, Proper Planning Prevents Piss Poor Performance...and get the certification.
In order to earn the certification, you have to taken both MRI courses, the MRI Spine Interpretation and the MRI Spine Herniation-Bulge Interpretation. They can be found at www.TeachDoctors.com. Upon completion you will be awarded the certification with your state's credentialing body listed where applicable. IF...you are in New Jersey or Texas, credentials are now mandatory as per law to be able to testify. In the other states, it is a standard that must be met.
PLEASE TAKE FURTHER NOTICE: CONFIDENTIALITY AND PROPRIETARY INFORMATION NOTICE: This email including attachments is covered by the Electronic Communications Privacy Act (18 U.S.C. 2510-2521) and contains confidential information belonging to the sender. Nothing contained in this message or in any attachment shall constitute an Electronic Signature or be given legal effect under 44 U.S.C. 3504 Sec. 1707. The information is intended only for the use of the individual or entity to which it is addressed. If the recipient of this message is not the intended recipient, you are at this moment notified that any unauthorized disclosure, dissemination, distribution or reproduction of this message or any attachments of this communications is strictly prohibited and may be unlawful. If this communication has been received in error, please notify the sender immediately by return email, and delete or destroy this and all copies of this message and all attachments.