Academy of Chiropractic Personal Injury & Primary Spine Care Program
Quickie Consult 35 CI

From the Desk of Dr. Mark Studin
Preamble: Many of the issues I bring to you are very small, yet each issue is just that, an issue. If you take care of the small issues, then you will be able to build and more importantly, focus on the bigger issues...a larger practice and more family time.
"Clinical Outcome: Bone Scan"
I received this today:
Hi Doc, Here is a clear example of the importance of a bone scan when clinically indicated by the evaluation.  This patient was transported to the ER of a local hospital complaining of sternal and rib pain mostly on the right side among other symptoms after an MVA on 8/30/2012.  She had x-rays and a CT scan of the chest and ribs while at the ER.  As you can see (BELOW ARE THE REPORTS) the reports were negative for rib or sternal fractures and the positive bone scan.  The attorney referred me this patient on Monday 9/10/2012 and after my evaluation I schedule her the next day (because there was no opening for the same day) for the bone scan which clearly shows multiple right rib fractures, one left rib fracture and an upper sternal fracture.  Needless to say I didn't even touch the patient after the evaluation and I can't imaging someone relying on the CT and X-ray reports from the hospital, which were negative for fractures to decide whether or not to adjust this patient.  That could have been a big mistake.  Now I have a very happy attorney who text'ed me: "You're the man" after I text'ed him the positive findings, an accurate diagnosis and a treatment plan that would not hurt the patient.  I thank you and the academy for teaching such concepts.
Respectfully,
Dr. Jose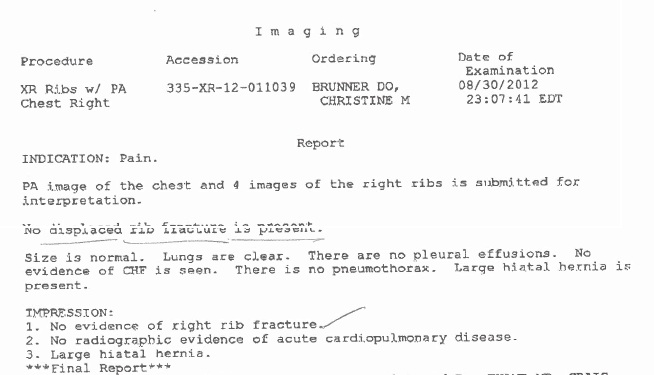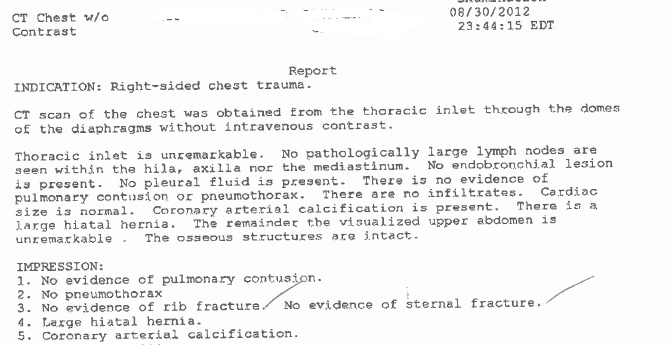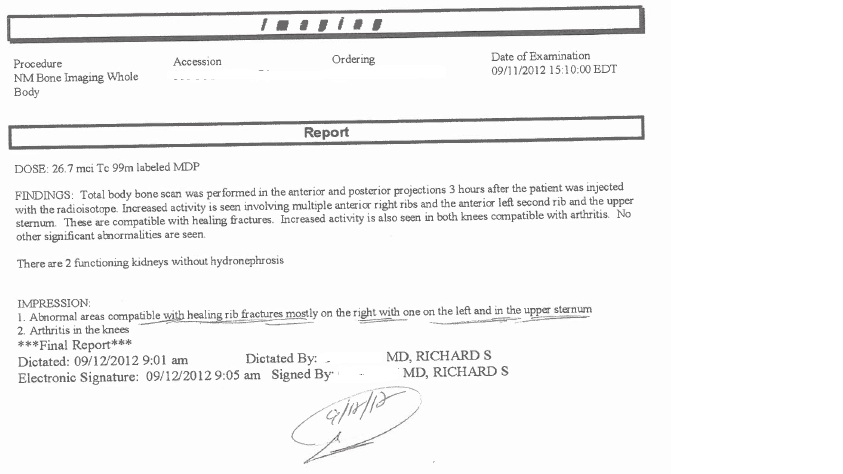 PLEASE TAKE FURTHER NOTICE: CONFIDENTIALITY AND PROPRIETARY INFORMATION NOTICE: This email including attachments is covered by the Electronic Communications Privacy Act (18 U.S.C. 2510-2521) and contains confidential information belonging to the sender. Nothing contained in this message or in any attachment shall constitute an Electronic Signature or be given legal effect under 44 U.S.C. 3504 Sec. 1707. The information is intended only for the use of the individual or entity to which it is addressed. If the recipient of this message is not the intended recipient, you are at this moment notified that any unauthorized disclosure, dissemination, distribution or reproduction of this message or any attachments of this communications is strictly prohibited and may be unlawful. If this communication has been received in error, please notify the sender immediately by return email, and delete or destroy this and all copies of this message and all attachments.