Academy of Chiropractic Personal Injury & Primary Spine Care Program
Quickie Consult 508
Infrastructure 123 I

From the Desk of Dr. Mark Studin
Preamble: Many of the issues I bring to you are very small, yet each issue is just that, an issue. If you take care of the small issues, then you will be able to build and more importantly, focus on the bigger issues...a larger practice and more family time.
"Our Group Has Become the Primary Spine Care Providers"
THE PROOF & REWARDS
Becoming the Primary Spine Care Provider simply means being the first-level of referrals for every source regarding spine care. It is working.
This past week I sent a survey to all of our existing members regarding how many new cases on average your practice has increased since joining the doctors PI program. I do this periodically to ensure that our recommendations are sound and successful with verification that what I am teaching is working. 
I am happy to say that on average "my doctors" now get 15 additional new cases per month.
 Two years ago that number was 9 on average per month. 
WHY?
In part I attribute that growth in success to helping you become more clinically excellent and better at understanding the entire medical – legal – insurance paradigms. However the largest part of the success and growth in my analysis has come from teaching you how to become the primary spine care provider for all referral sources. Although many of you might not realize that I have been positioning you to be just that, which has been my end game for the last two years.
Part of the success formula has been increasing your level of clinical excellence and the other part has been "soft marketing strategies" that go against the norm of traditional marketing. My entire strategy for you has been, is and always will be to have all of your marketing be centered on your increased level of clinical competence. It's working at an unprecedented level that is sustainable in every city, in every state in the nation.
My recommendations on how to have relationships with medical specialists and communications with primary care providers are working. My recommendations on how to communicate with your patients and use tools such as the US Chiropractic Directory and the research in the US Chiropractic Directory has made significant inroads into both internal and community referrals along with using your curriculum vitae as verification for both your patients and their potential referrals as to why you are the best doctor to care for their problems.
The proof, as you can see below is that we (my clients) now get 86.9% more referrals form lawyers, 30.4% more referrals from medical specialists, 21.7% more referrals from medical primary care providers and 52.1% more referrals from existing patients. The surprising part is with primary care medical providers I have made very few recommendations, yet the success formula transcends all referral sources. I also recognize that the MD Referral Program is now helping chiropractors get significant referrals from medical primary care providers that dwarf my 21.7%.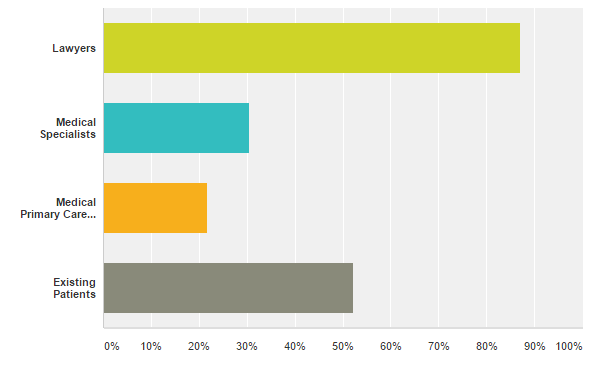 When you look at the above statistics and combine it with a practice with sound clinical protocols and documentation that supports those protocols, we now have a concise, didactic explanation as to why our doctors are collecting more money. Those explanations now have hard statistics as verification (please see the income statistics below).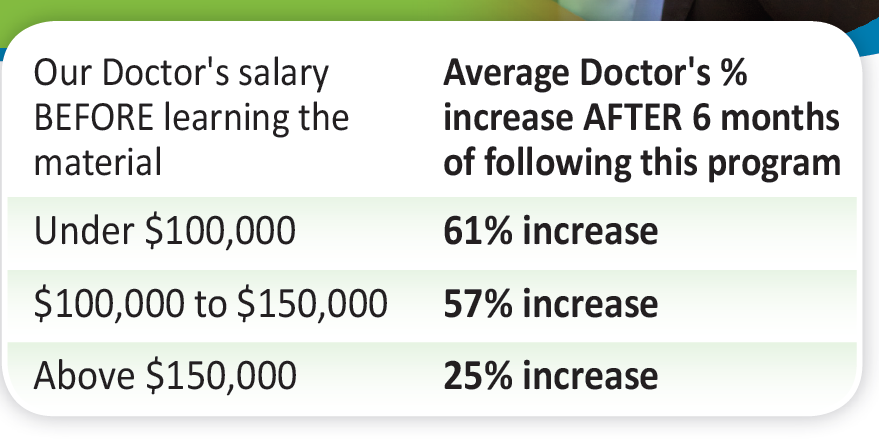 All of the statistics are averages and reflect what our doctors are doing across the board. There are some doctors that are in the high-end of the spectrum while others are at the low end. For those of you the high-end, don't change what you're doing, simply add the new programs that I will be sharing with you as time progresses because the only constant is everything changes. It is my commitment to you to keep you ahead of the curve and prepare you for those changes prior to them occurring.
For those doctors who are at the low end of the spectrum, we need to chat. However before we do so, ask yourself the following questions:
1.  Do I have a "preferred listing" on the US Chiropractic Directory
2.  Do I have my CV completed on the US Chiropractic Directory
3.  Have I taken the following courses or equivalent
      a.   PI Bootcamp
      b.  MRI spine interpretation
      c.   Spinal biomechanical engineering
      d.  Accident reconstruction
      e.   Colossus documentation
      f.    Impairment rating
4.  Do I meet with lawyers on a monthly basis
5.  Have I created my team medical specialists
6.  Do I send my reports as prescribed to primary care providers
7.  Have I created a report of findings as prescribed in the office systems" section of the consultations
8.  Have I had a lawyer seminar
9.  Do I speak to Dr. Studin regularly
The above are nine "core reasons for success" and what those doctors who are at the 15 new patients above level do on a regular basis. If you think your success is alluding you because you are not in a multi discipline environment you are mistaken. I spend more time with chiropractors in undoing that corporate scenario than any other task as a consultant.
In today's marketplace with your chiropractic degree, your graduate-level education choices and research findings a chiropractor has never had a better opportunity to succeed. The only limitations are your vision and willingness to go outside of your comfort level while never compromising your ethics. If don't believe me please check the above statistics. You are part of them!


Respectfully,



Mark Studin DC, FASBE(C), DAAPM, DAAMLP


Adjunct Assistant Professor of Chiropractic, University of Bridgeport, College of Chiropractic
Adjunct Professor, Division of Clinical Sciences, Texas Chiropractic College
Educational Presenter, Accreditation Council for Continuing Medical Education Joint Partnership with the State University of New York at Buffalo, School of Medicine and Biomedical Sciences
Academy of Chiropractic
US Chiropractic Directory
631-786-4253
PLEASE TAKE FURTHER NOTICE: CONFIDENTIALITY AND PROPRIETARY INFORMATION NOTICE: This email including attachments is covered by the Electronic Communications Privacy Act (18 U.S.C. 2510-2521) and contains confidential information belonging to the sender. Nothing contained in this message or in any attachment shall constitute an Electronic Signature or be given legal effect under 44 U.S.C. 3504 Sec. 1707. The information is intended only for the use of the individual or entity to which it is addressed. If the recipient of this message is not the intended recipient, you are at this moment notified that any unauthorized disclosure, dissemination, distribution or reproduction of this message or any attachments of this communications is strictly prohibited and may be unlawful. If this communication has been received in error, please notify the sender immediately by return email, and delete or destroy this and all copies of this message and all attachments.