Academy of Chiropractic Personal Injury & Primary Spine Care Program
Quickie Consult 494
Build Your Infrastructure # 121 I

From the Desk of Dr. Mark Studin
Preamble: Many of the issues I bring to you are very small, yet each issue is just that, an issue. If you take care of the small issues, then you will be able to build and more importantly, focus on the bigger issues...a larger practice and more family time.
"When Not to Adjust and When To Adjust Your Patients"
This doesn't happen very often: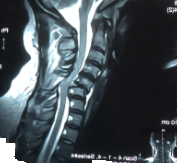 As you progress in the program, or if you have been with me for years, you will either have heard, or will hear one recurring theme. If you don't know… Don't guess! That is the reason I have been "Hawkish" about everyone learning to interpret MRI (www.TeachDoctors.com) and not ABDICATE that responsibility to the radiologists. Genreal radiologist have a published error rate of 42.2% according to Spine in 2009. Neuroradiologist s are usually excellent in getting it "right," however it is still up to you to ensure an accurate diagnosis prioor to adjusting your patients. 



The rule of thumb, as both Mark's rule and corroborated by the literature, is if there is asignificant radiculopathic or any myelopathic clinical finding, do not adjust your pateint unless you have an MRI to ensure there is adequate room around either the cord or roots and the increased intrathecal pressure created by your adjustment won't injure either structures. 


It's really that simple. 


Reference: US ChiroprcticDirectory (click for complete article)



It was reported by McMorland, Suter, Casha, du Plessis, and Hurlbert in 2010 that over 250,000 patients a year undergo elective lumbar discectomy (spinal surgery) for the treatment of low back disc issues in the United States. The researchers did a comparative randomized clinical study comparing spinal microdiscectomy (surgery) performed by neurosurgeons to non-operative manipulative treatments (chiropractic adjustments) performed by chiropractors. They compared quality of life and disabilities of the patients in the study.

The study was limited to patients with distinct one-sided lumbar disc herniations as diagnosed via MRI and had associated radicular (nerve root) symptoms. Based upon the authors' review of available MRI studies, the patients participating in the study were all initially considered surgical candidates. Both the surgical and chiropractic groups reported no new neurological problems and had only minor post-treatment soreness. 60% of the patients who underwent chiropractic care reported a successful outcome while 40% required surgery and of those 40%, all reported successful outcomes. This study concluded that 60% of the potential surgical candidates had positive outcomes utilizing chiropractic as the alternative to surgery.

Therefore, the majority of disc patients can get adjusted safely with reproducible guidelines to ensure a positive outcome. Over the years, the biggest complaint I have gotten from medical spinal specialists (neurosurgeons, orthopaedic surgeons, etc.) is the chiropractor overstepping their bounds and didn't collaboratively treat the acute patient. As a result, historically the entire medical specialist community has been telling their patients and primary care colleagues to stay away from chiropractors. Today, with the collective body of research that has been published, that stance is softening however, it will be moot if the average practicing chiropractor still adjusts blindly and repeats the mantra "I know the patient will get well" without understanding the anatomy of the subluxation-misalignment-space occupying lesion relationship. In other words, if you don't know… Don't touch…YET! Because no matter the lesion, surgical or not, there will be a place for the chiropractic adjustment to stabilize the patient and prevent further negative sequella.

However… as the research quoted above indicated, even with many herniated discs that have been previously considered surgical, there is a conservative chiropractic solution. Once you understand the protocols and how to identify them, you can safely adjust your patients. A personal observation is that less than 1% -2% of radicular patients that visit a chiropractor will ever be true surgical candidates and we can safely adjust our patients, albeit not blindly. 

For those other 98%-99%, we should never lose sight of the fact that chiropractic works. With more recent research explaining central excitation and our further understanding of autonomic effects of the chiropractic adjustment it has added science to the old story of a "bone on a nerve." Over the past 34 years, I have received many letters from my personal patients. These results have been the foundation for the need for more science in explaining the what and how, however as powerful as these words are, we as chiropractors have decades over a century of empirical evidence that what we do…works at so many levels of health. 

Here are 2 of hundreds of letters my patients wrote me 23 years ago. The bottom line is… that same adjustment exists today with the same sick patients seeking your care. I give you guidelines when to and when not to adjust based upon trauma related sequella…but I will never lose sight of the fact that what we do…WORKS.

10-15-1991

"I never thought I would need a chiropractor, I rarely went to a doctor and there wasn't anything wrong with, me before I started coming to a chiropractor or so I thought. Then 1 day I went to have my eye exam, the eye doctor said that my eye pressure was high and they might have glaucoma. I was afraid.

I started getting adjusted every week, then I took a visual field test and that has come back fine and the pressure in my eye went from 28 to 22 in one eye and from 28 to 24 and the other eye. 18 is normal and I am now very excited.

I know with regular adjustments my eye pressure will go down to normal without the use of eye drops medication now I think that exciting."

2-8-1991

NOTE: This was written by the mom for her 2 year old son

It's my turn now to become a member of Dr. Marks "wall of chiropractic fame." I came here five months ago irritable, cranky, and very disagreeable I suffered repeatedly from respiratory problems: pneumonia and bronchitis bronchial asthma and ear infections. I woke up several times during the night, had violent outbursts and was just a miserable person to be around. Basically I was sick all the time, visiting the doctor over 40 times in 19 months and on antibiotics so much that my body was becoming immune. What would I do?

At a friend's house I met one of your patients. She spoke highly of you in chiropractic. That same week I started under your care, your enthusiasm was overwhelming. By the second week my "cycle of sickness" began again this time under care it passed with no infection and therefore no antibiotics. My symptoms seem constant times, but you explain this was an overreaction of my body ridding itself of all of the "garbage". I began to notice a difference of myself, not just in my physical health but also in my disposition. I even began sleeping through the night! By my third month under care there was a break in my symptoms. I have been normal now for two months and drug-free for five months summation point.

I'm just celebrating my second birthday and thanks to Dr. Mark in chiropractic care I am now a happy healthy and pleasant child to be around.

NOTE: I spoke to this mother recently, her so has never had an ear infection, pneumonia, respiratory infection or the violent outbursts that came close to classifying him on the spectrum of special needs. He has gone on to lead a productive life and has pursued, last I heard, a career as a professional golfer. 





Respectfully,



Mark Studin DC, FASBE(C), DAAPM, DAAMLP

Adjunct Assistant Professor of Clinical Sciences, University of Bridgeport, College of Chiropractic

Educational Presenter, Accreditation Council for Continuing Medical Education Joint Partnership with the State University of New York at Buffalo, School of Medicine and Biomedical Sciences 

Academy of Chiropractic 

US Chiropractic Directory
631-786-4253
PLEASE TAKE FURTHER NOTICE: CONFIDENTIALITY AND PROPRIETARY INFORMATION NOTICE: This email including attachments is covered by the Electronic Communications Privacy Act (18 U.S.C. 2510-2521) and contains confidential information belonging to the sender. Nothing contained in this message or in any attachment shall constitute an Electronic Signature or be given legal effect under 44 U.S.C. 3504 Sec. 1707. The information is intended only for the use of the individual or entity to which it is addressed. If the recipient of this message is not the intended recipient, you are at this moment notified that any unauthorized disclosure, dissemination, distribution or reproduction of this message or any attachments of this communications is strictly prohibited and may be unlawful. If this communication has been received in error, please notify the sender immediately by return email, and delete or destroy this and all copies of this message and all attachments.