Academy of Chiropractic Personal Injury & Primary Spine Care Program
Quickie Consult 41 CI

From the Desk of Dr. Mark Studin
Preamble: Many of the issues I bring to you are very small, yet each issue is just that, an issue. If you take care of the small issues, then you will be able to build and more importantly, focus on the bigger issues...a larger practice and more family time.
"MRI Clinical Incompetence Part 2" This could cost you your license
The following MRI slices were taken in Michigan and the doctor (DC) immediately noticed the mistake in both the MRI protocols use to aquire the images and the diagnosis from the radiologist.
This doctor, who I would tag as one of the most inquisitive doctors I work with, had gotten his MRI certification at www.teachdoctors.com, and may have saved this patient from significant unnecessary anguish. I strongly believe his ability to interpret the images also prevented both a malpractice case and a licensure issue by avoiding improper care for this patient.
The radiologist diagnosed this patient with a bulged disc at L4-5, nothing else. This was incorrect. It was a bulged disc, but there was also a very large herniation. I would like to expand on my opinion further, but it is not possible due to the lack of proper protocols in acquiring the images.
Those who have taken the MRI ertification course are aware of the problems with this slide. For those who have not, I will share them with you: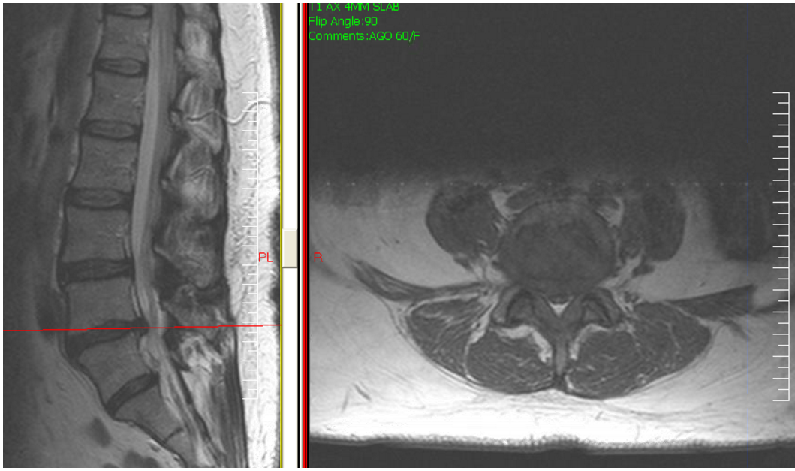 The angle of the slice is parallel with the floor. This qualifies as a "stacking view" in the lumbar spine. It does not qualify as a standard sagittal view as the angle of the disc is not in line with the disc. In fact, looking at the other slices (omitted), there are no slices angled with the disc.
The slice above and below miss the disc and the lesion. This precludes anyone from diagnosing the lesion and I strongly suspect this is possibly a "surgical" extruded disc.
The neural canals look compromised, but once again, there are no other slices to conclusively diagnose that.
The neural canal is compromised, but that was not reported.
In short, this patient needs another MRI and should not be touched without a conclusive diagnosis. For those of you who are bold enough and have distraction tables, are you willing to treat this patient on your "non-FDA approved" devices? I am not contesting the effectiveness of the treatment, only your exposure in doing so. I urge you to call both your malpractice carrier and your state boards to ensure you are on firm ground. These are tough questions, but I am glad I am the one asking them and not a lawyer going against you.
In addition, if you are working with a lawyer, can you explain these problems and do you have the credentials behind you to be able to go to court? These are the type of issues that allow a lawyer to see your level of clinical excellence and WANT to work exclusively with you. He/she does not want to go to court and get "ambushed" by a defense expert. This costs the lawyer money, lots of it, and in the end, he/she loses his/her case.
Here is a PRIME example of winning through clinical excellence.
No certification...no assurance a judge will allow you to testify. The lawyers know that.
PLEASE TAKE FURTHER NOTICE: CONFIDENTIALITY AND PROPRIETARY INFORMATION NOTICE: This email including attachments is covered by the Electronic Communications Privacy Act (18 U.S.C. 2510-2521) and contains confidential information belonging to the sender. Nothing contained in this message or in any attachment shall constitute an Electronic Signature or be given legal effect under 44 U.S.C. 3504 Sec. 1707. The information is intended only for the use of the individual or entity to which it is addressed. If the recipient of this message is not the intended recipient, you are at this moment notified that any unauthorized disclosure, dissemination, distribution or reproduction of this message or any attachments of this communications is strictly prohibited and may be unlawful. If this communication has been received in error, please notify the sender immediately by return email, and delete or destroy this and all copies of this message and all attachments.