Academy of Chiropractic Personal Injury & Primary Spine Care Program
Quickie Consult 47 CI

From the Desk of Dr. Mark Studin
Preamble: Many of the issues I bring to you are very small, yet each issue is just that, an issue. If you take care of the small issues, then you will be able to build and more importantly, focus on the bigger issues...a larger practice and more family time.
"Credentials and Knowledge: The Only Way to Spiral UPWARDS"
I received this today from Dr. Owens:
[From: Date: Sat, Apr 27, 2013 at 9:25 PM
Subject: Re: Call
To: William Owens <drowens@teachdoctors.com>

Dear Dr. Owens,


I thought you had research that said disc degeneration is more prone to exacerbation and relapse. I already have what you sent me on the research of the vascularization of the discs. I am looking for more as mentioned above. Thanks for all your help. Also . . . . . .
Insurance companies are sending me research saying everyone above 30 yrs old has disc problems. Is there research that says trauma is the cause of herniated discs rather than it being somewhat innate or common?]
Dr. Owens asked me to weigh in on the subject as the doctor he is working with simply doesn't get it. This doctor is not a member of either the lawyers or the MD program and he simply gets the EMR Macro's and his training has left too many holes. Too many think they have the answer and the easy way out... Here is my reply...
[Dan...Bill asked me to weigh in on your request. First, you have to appreciate that researchers really do not care about the medical-legal fight. Secondly, it is not our job to make the legal argument for the lawyer, only to present the facts of our findings and the research to substantiate it. The lawyer has to be the lawyer.
As for asymptomatic herniations. I have now presented to over 10,000 lawyers on this topic nationally and it is clear that this argument is steeped in rhetoric and has no bearing on a recent herniation. One article that can help bolster your understanding and that of the lawyers who are asking you to make their case is:


Unfortunately due to copyright laws, I am precluded from sending you a hard copy of the research article. I urge you to go to Scholar Google for a full copy. It is well worth it. However, the researchers conclude the following: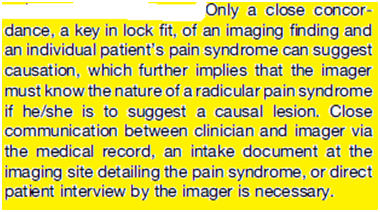 If you read all the research that supposedly supports asymptomatic discs, you will start to get a good handle on the rhetoric designed to obfuscate the truth on the real issue; the clinical correlation, which is the one of two ways to date a herniation. The other has not yet been published and unless you are certified in MRI Spine Interpretation will probably preclude you in the state of New Jersey from rendering an opinion on that line of reasoning or any other state should you not have the requisite credentials.
As for disc degeneration (aka disc bulge), the real issue is that it is a risk factor for chronic pain and predisposes the disc to tear. The pain, see the following research:
José García-Cosamalón, Miguel E. Del Valle, Marta G. Calavia, Olivia García-Suárez, Alfonso López-Muñiz, Jesús Otero, José A. Vega Intervertebral disc, sensory nerves and neurotrophins: who is who in discogenic pain,? Journal of Anatomy, Volume 217, Issue 1, pgs 1-15, July 2010
As for predisposing it to tear...You do not need research for that, only an anatomy book and the definition of bulges. What will tear first, thick and fibrous, or thin and brittle? There are times that common sense rules the day and this is one of those times.
I hope this helps clarify the issues...Mark]
PLEASE TAKE FURTHER NOTICE: CONFIDENTIALITY AND PROPRIETARY INFORMATION NOTICE: This email including attachments is covered by the Electronic Communications Privacy Act (18 U.S.C. 2510-2521) and contains confidential information belonging to the sender. Nothing contained in this message or in any attachment shall constitute an Electronic Signature or be given legal effect under 44 U.S.C. 3504 Sec. 1707. The information is intended only for the use of the individual or entity to which it is addressed. If the recipient of this message is not the intended recipient, you are at this moment notified that any unauthorized disclosure, dissemination, distribution or reproduction of this message or any attachments of this communications is strictly prohibited and may be unlawful. If this communication has been received in error, please notify the sender immediately by return email, and delete or destroy this and all copies of this message and all attachments.