Lawyer's New LOP Money Grab: Part 2
Office Systems #42
From the Desk of: Dr. Mark Studin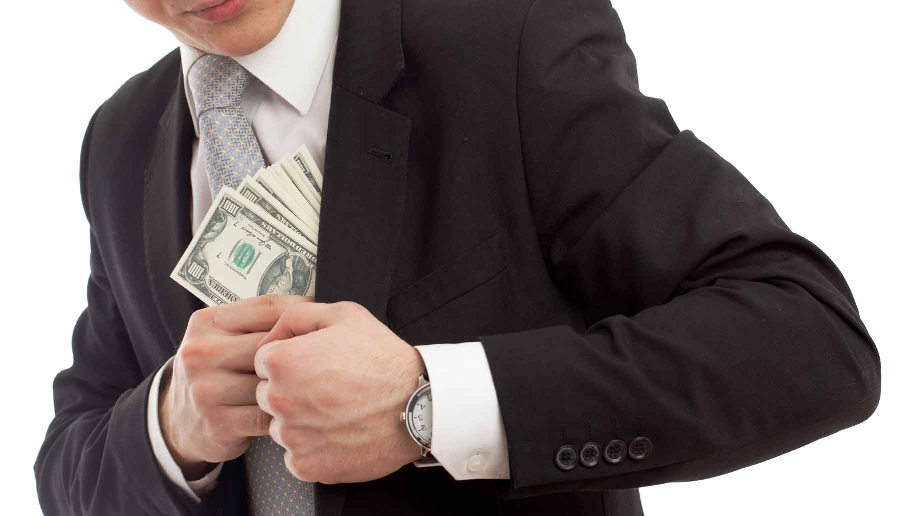 As previously reported, lawyers have anew "money Grab" scheme, and you are in their sites. They expect you to run after the "crumbs" of their cases and think you "the fool." Below is the latest typical language of lawyers offering an "up-front" letter of protection (LOP). At first glance appears to make it very easy for you to get paid. However, once you read it carefully, it's "bend over baby" as this typically won't end well for you. 
After the lawyer's letter is our response. Read it and USE IT TO GET PAID!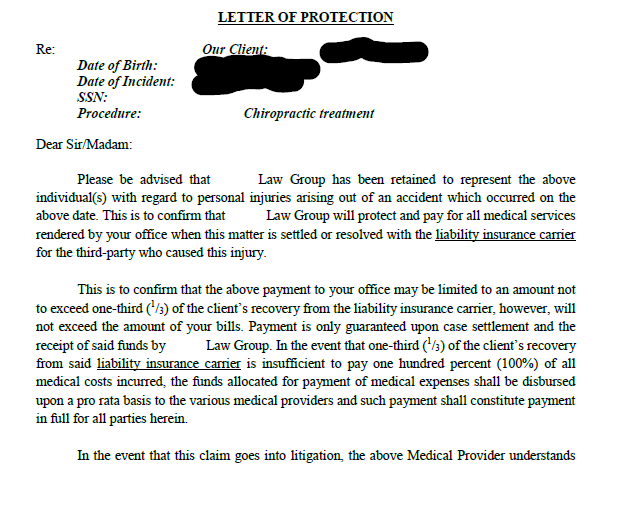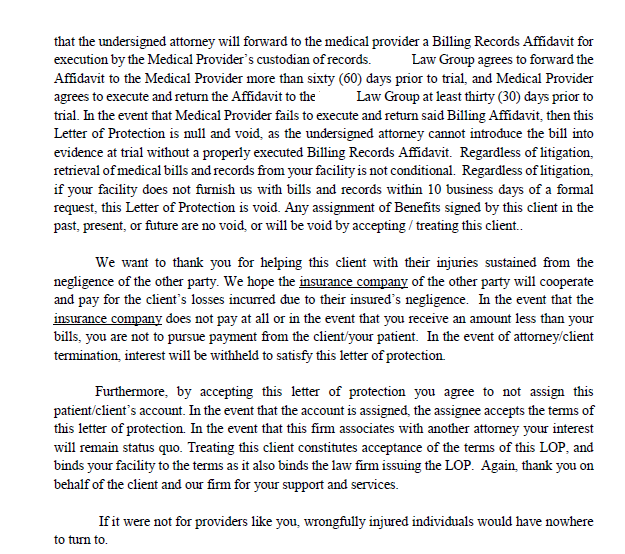 Here is what your response should be:
August 11, 2020
Mr. John Smith
Dewey and Cheatum
Attorneys at Law
PO Box 17289
Anywhere NY 12345
Re:                                          xxx xxxx
Date of Birth:                           08/21/73                     
Date of Accident:                    05/08/19
Dear Mr. Smith:
Thank you for contacting our office concerning Mr. xxxx xxxx. I am a Trauma Qualified provider, and continually am taking classes to stay on the cutting edge to allow you to prevail in your cases at a higher level. Also, I am Colossus trained and understand the documentation that is required so that I can provide an attorney with what is necessary in order to receive a fair and equitable settlement. My credentials allow me to pass any Voir Dire hearing. In the end, you would be able to use me unlike most, if not all, other chiropractic providers in the region. Please also understand that my overhead exceeds 50% prior to taxes. Therefore, to agree in advance to treating a patient and then potentially "discount our fees" is not possible. Therefore, your letter of protection is rejected. The attorneys that we work with chose to work with our office for the knowledge, expertise, and documentation that I provide.
Please understand that our business policy, under a duly served irrevocable lien, is never to take more than 1/3 of the case. If you want us to reduce our fee below that 1/3, we are team players, and whatever the lawyer reduces their fee, we will meet that percentage. The team wins and loses together. It is not a unilateral relationship.
Please see my attached irrevocable lien duly executed by my patient, your client.
Respectfully, 
Mark Studin DC, FASBE(C), DAAPM, DAAMLP
Trauma Qualified, Cleveland University, Kansas City
Evaluation & Management Qualified, Cleveland University, Kansas City
Primary Spine Care Qualified, Cleveland University, Kansas City
Hospital-Based Spine Care Qualified, Cleveland University, Kansas City