Academy of Chiropractic's Doctors PI Program 
Infrastructure #122
Narratives #78

From the Desk of : 
Mark Studin DC, FASBE (C), DAAPM, DAAMLP 
 Evaluation & Management Guidelines 2021
There are new Evaluation and Management (E&M) Guidelines that are in effect as of January 1, 2021. These guidelines are a combination of using time as a hard parameter, combined with the elements of both the 1995 and 1997 Medicare E&M rules. The changes are critical for both your income and compliance. Financially, most doctors incorrectly "down code" evaluations. On the the flip side, persistently incorrectly coding can constitute a a pattern of fraud, which is the foundation for a RICO violation. Therefore, getting it correct is paramount. 
This conversation is going to focus on 99203-99204-99205 and 99213-99214-99215. I am omitting 99202 in explanation as 100% of every doctor I have done a compliance review in the past, who used a 99202, only did it out of fear. If done correctly, I would be hard pressed to find any patient that started in a chiropractic office that didn't qualify for a "3 level" evaluation. However, that is a clinical decision you have to make.  
I am going to focus on the 1997 Medicare Guideline as allowed in the 2021 rules as part of the explanation of what is required. These are the required elements that are now combined with the NEW rules on the mandatory time component. 
The most significant "eye-opener" is that a 99203 has less requirements than a 99214.  
BULLETS
Bullets are elements required when coding. They are both an Organ System and examination elements within those Organ Systems. Both must be met depending upon how you code.  
99203/99214 requires TWO bullets from SIX Organ Systems or 12 bullets from two or more Organ Systems. 
99204/99205/99215 requires TWO bullets from nine Organ Systems or 18 bullets.  
Below you will see the 15 Organ Systems: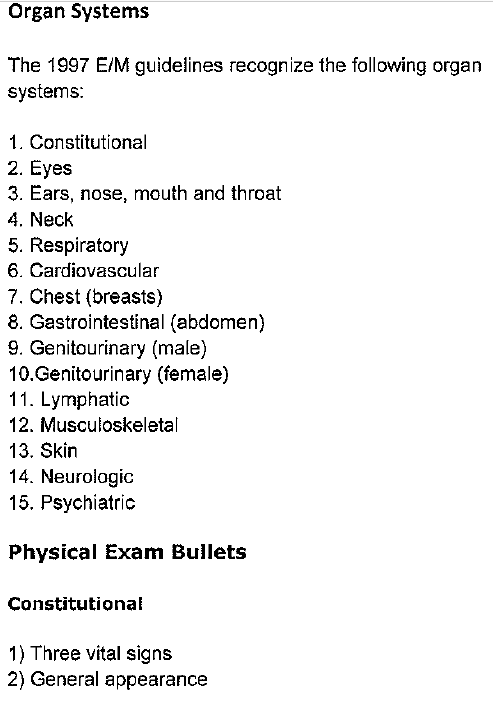 This is where you start to choose an examination level dependent upon clinical necessity. The following is a typical chiropractic examination for a trauma case, and often non-trauma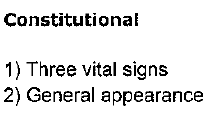 Organ System 1: Constitutional
Bullet 1: Three vial signs - Height, weight, blood pressure, pulse
Bullet 2: General Appearance - Well nourished, developed

Organ System 2: Neck [Anterior]
Bullet 3: Masses, Lymph nodes/chain
Bullet 4: Examination of Thyroid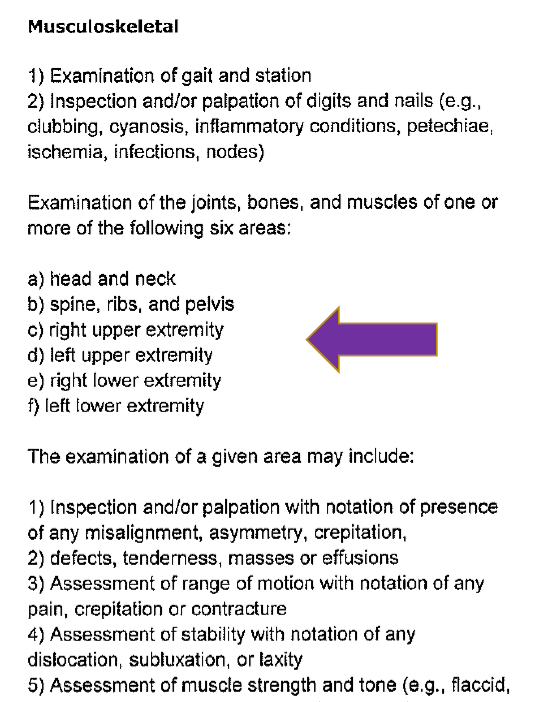 Organ System 3: Musculoskeletal
Bullet 5: Examination of Gait and Station
Each of the following regions is 4 bullets:
1. Head and Neck
2. Spine-Rib-Pelvis
3. Right Upper Extremity
4. Left Upper Extremity
5. Right Lower Extremity
6. Left Lower Extremity  
     Bullet 1: Palpate for misalignment / asymmetry
     Bullet 2: Palpate for tenderness
     Bullet 3: Assess ranges of motion
     Bullet 4: Assess muscle tone or strength
Therefore, each of the 6 regions above can have 4 bullets. 

Organ System 4: Skin
Bullet 6 + 4-8-12-16 for the above Musculoskeletal bullets: Visual Inspection of skin for bruising
Bullet 7 + 4-8-12-16 for the above Musculoskeletal bullets: Palpatory Inspection of skin for subcutaneous masses-bumps of affected region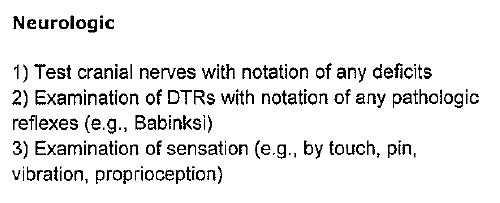 Organ System 5: Neurological
Bullet 8 + 4-8-12-16 for the above Musculoskeletal bullets: Cranial nerves
Bullet 9 + 4-8-12-16 for the above Musculoskeletal bullets: DTR's [Deep Tendon Reflexes]
Bullet 10 + 4-8-12-16 for the above Musculoskeletal bullets: Sensory examination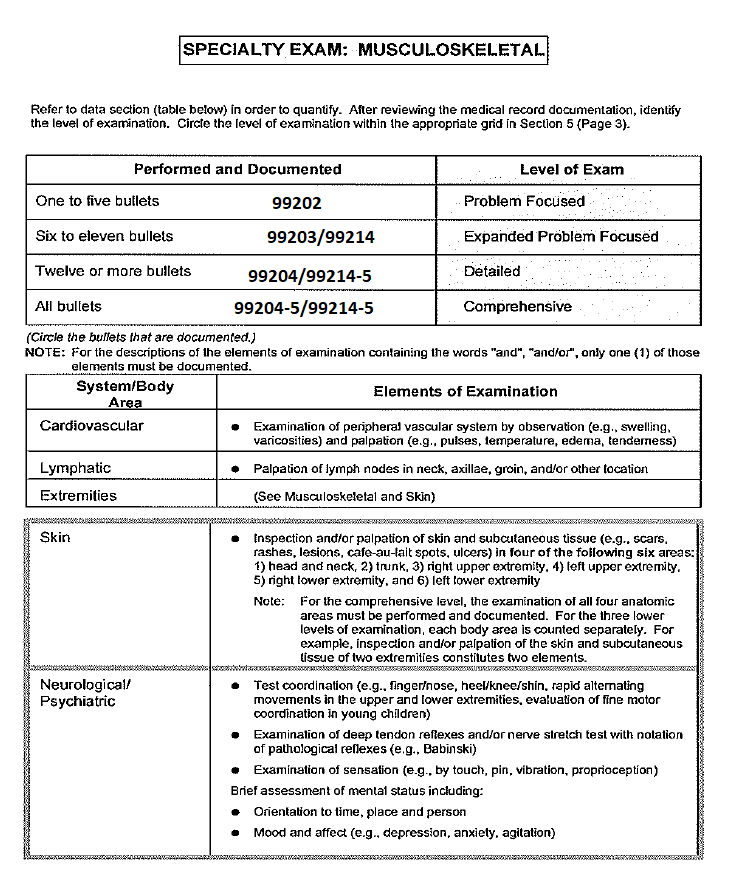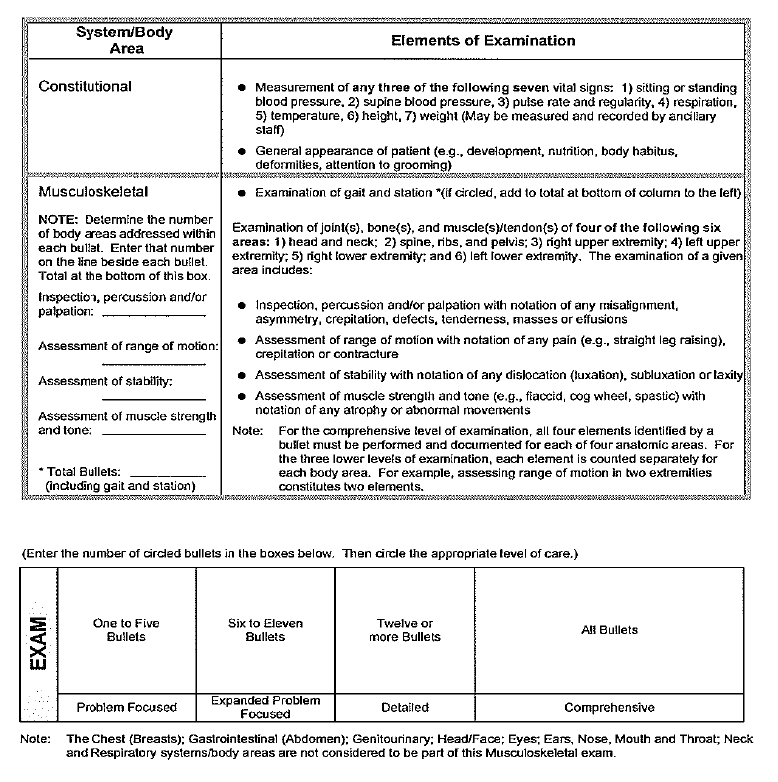 2021 Time Coding Elements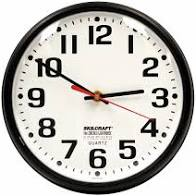 I would like to lead with,  the rules do not state that this is for the doctor's face-to-face time only. You may use your staff's time it took to gather the information, and you reviewed it. HOWEVER, too many of you will be too aggressive and leave yourself exposed to negative attention. Therefore, the HARDRULE for me, is to never consider more than 15 minutes per encounter utilizing staff time. Be sure to document that, and use CLOCK TIME. Be transparent with the carriers.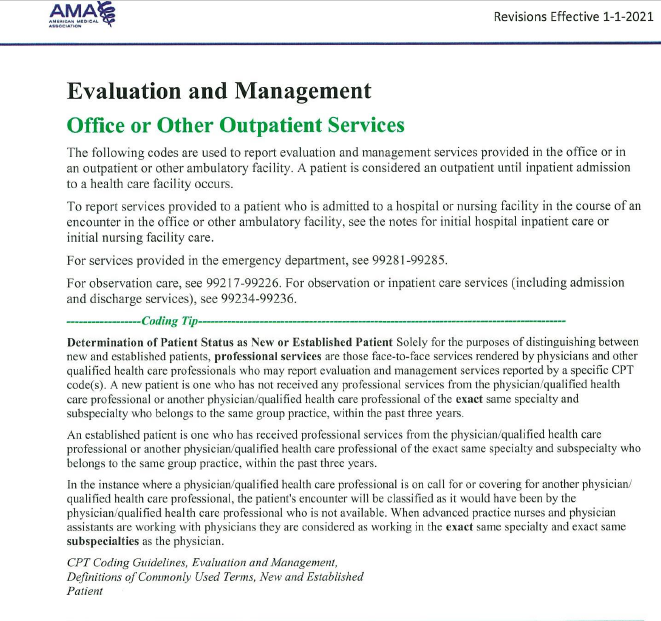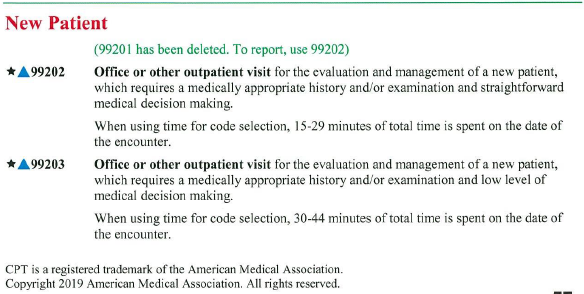 ---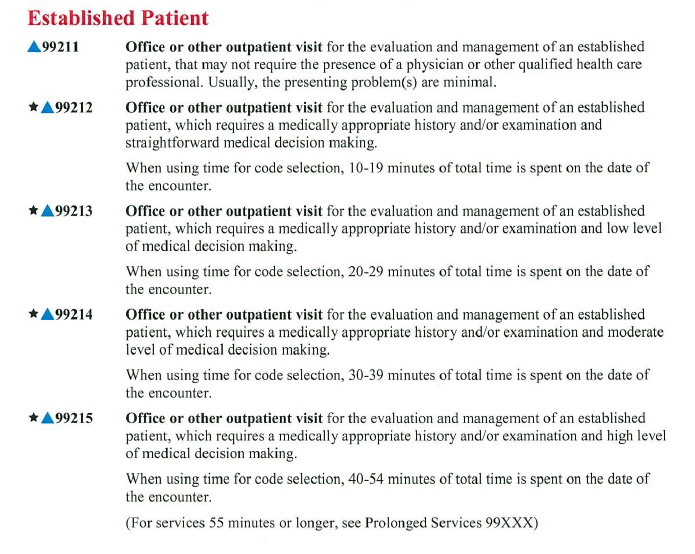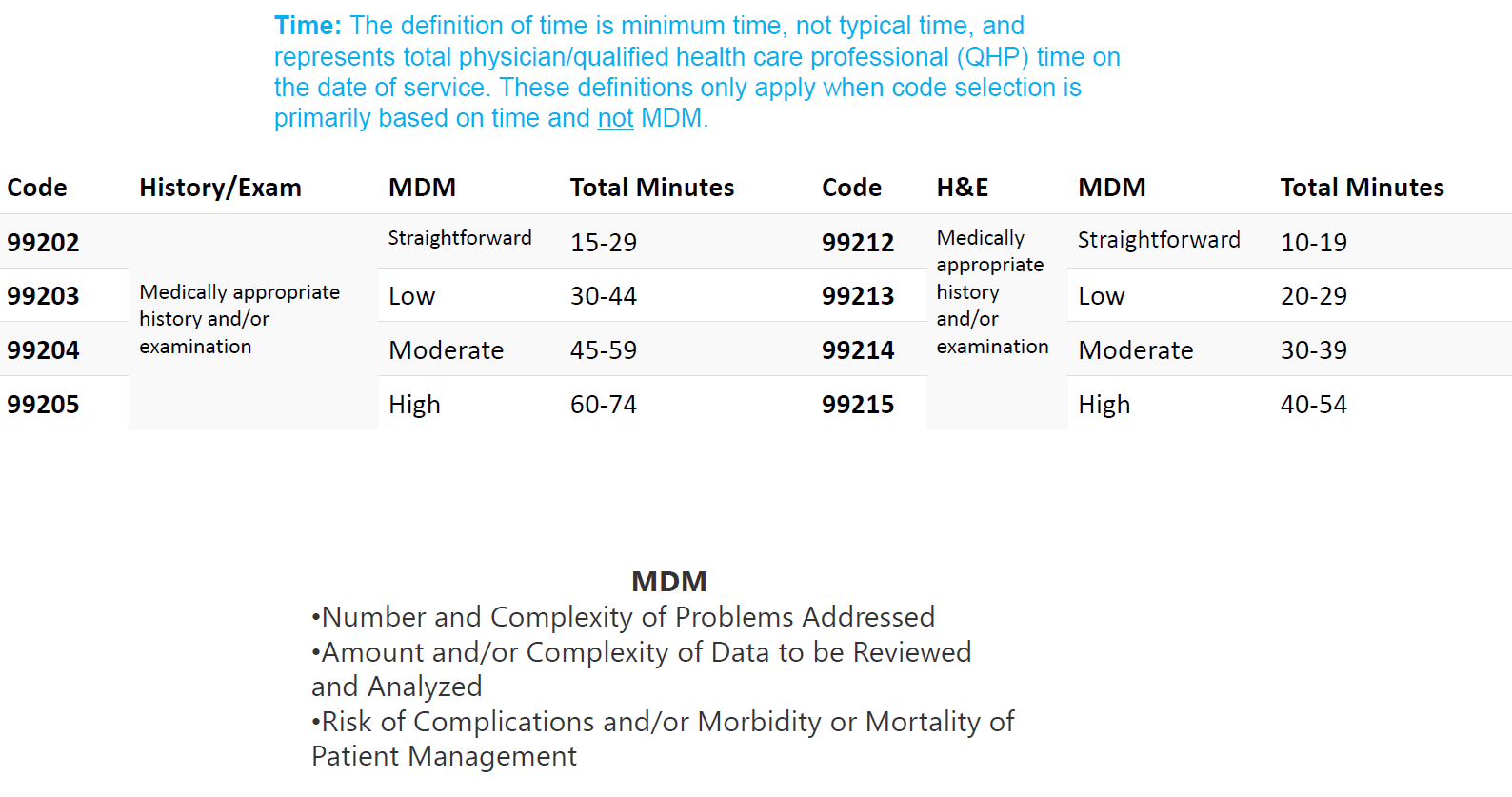 Time Rules:  Below are detailed explanations of how to use the time rules, and where the 1997 Guidelines are combined.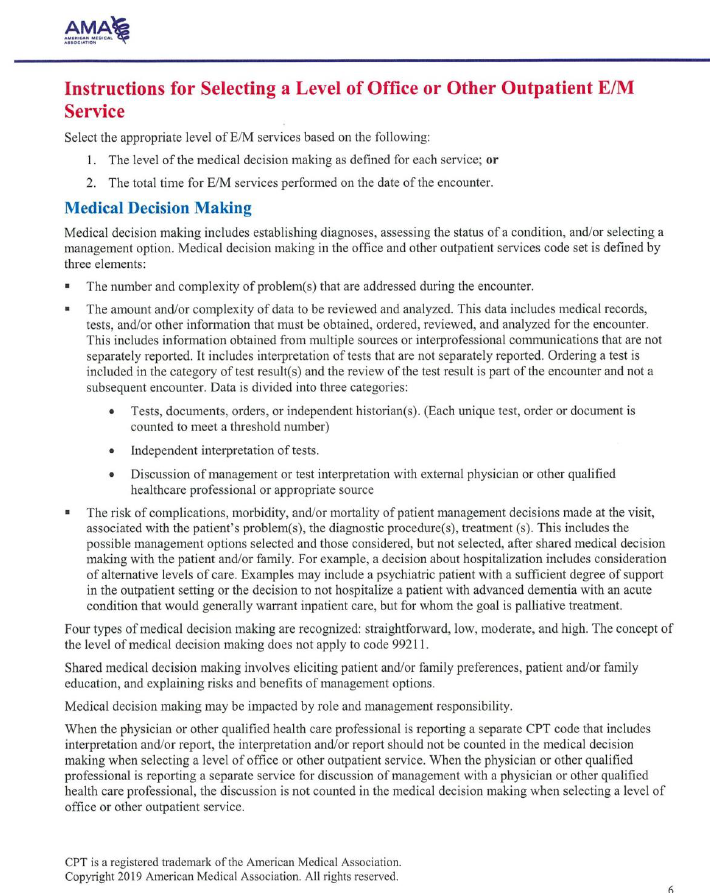 You must understand the medical decision making and it's complexities. This has been left open to interpretation and it is your job to make conservative clinical decisions that are supported by your documentation. It's these clinical decisions that will drive payments for your claims, and the basis for potential future lawsuits form carriers. Never lose sight that the carriers aggregate your utilization statistics, so this is a big deal to get it right from the beginning. My philosophy, is if you are not sure, err on the side of being conservative. This does not mean you do not bill for your services, it means you have to do it right and document it accurately. 
There are 3 component for time considerations:
1. Management-Counseling during a treatment visit
2. Evaluation and Re-Evaluation
3. Prolonged Service Encounters
1. Management-Counseling [M/C] 
This is during a treatment encounter, and is billable ONLY if you spend MORE time in the M/C encounter than the treatment. Bullets do not count in M/C encounters. 

M/C encounters, which is billed as a re-evaluation, are typically pushed back by carriers. Therefore, you need to be very clear in your documentation as to what the encounter entailed. Details are the arbiter to getting paid, but "do not get lost in the minutia." If you practice functional medicine, weight loss or similar it has been suggested by HJ Ross to avoid billing for these encounters. However, if you have to explain an MRI, or coordination of care with another provider, this is non-controversial and more likely to get paid without pushback [provided you documented the encounter as such]. 
This applies IF the M/C encounter is greater than 50% of the time spent with the patient that day. Also, you can bring the patient in for an extra visit for an M/C encounter.  
Although the Federal Regulations for these do not mandate using click time [as they do with timed modalities], I urge you to adopt the practice of using "clock-time" for every timed encounter. That level of transparency will prevent unwanted legal attention.  
2. Evaluation and Management of a New or Established Patients
RULE: NEVER USE A 99211... That is not for doctor services. A 99201 no longer exists.
The absolute requirement can be either bullets and complexity of the case, or time. As you can see from the examples of bullets above, bullets should never be an issue. However time is the core of the requirement. 
This is now ENCOUNTER TIME, not face-to-face time. This includes reviewing patient documentation before you see them. Additionally, this includes reviewing the intake AFTER the patient face-to-face time. This includes reviewing x-ray and MRI's. This DOES NOT INCLUDE your staff's time, if they do the initial OPQRST. This also mandates that you initial every intake document. 
Please do not abuse the staff time. Staff should not do anything that requires an interpretation. Staff could to history intake, vitals, but not ranges of motion as that required clinical decision making on the patient doing the test properly. As I said initially, I would limit staff time to 15 minutes as the most time, but less can be documented if there was less time taken.  You do count the time you reviewed the work your staff did, and that does not need to be in front of the patient. 
These changes are as per Dr. Sam Collins, HJ Ross 5/2021
Doing a thorough chiropractic initial evaluation WITHOUT cutting corners should take every DC a minimum of 30 minutes, with many between 45-60 minutes. and most re-evaluation, again without cutting corners should take 30-39 minutes, and qualify for a 99214. 
 3. Prolonged Service Encounters
Should you spend a prolonged amount of time in an initial, or any encounter, consider using a "Prolonged Service Code."
As an example, you just spent 30 minutes with a new patient, and you have met the bullet requirement for that encounter, but the patient needs significant more time for coordination as it is a complex case. The following would be applicable
99203-25
99354
The Prolonged service code is worth 20% more than a "3" level. This comes into play when looking at 2 or 3 accidents, and having to coordinate care. You can choose a "4" or "5" level, but I would choose a lower level of complexity, and then the prolonged service for the extra time, if you have not met the bullet, or complexity requirements. 
Now you will not be penalized for spending EXTRA time with patients where it is required.